Due to the manual nature of the 10DLC vetting process, we expect delays of several days for the initial review of a campaign, but it could be longer. Please note this review is done by the downstream Direct Connect Aggregator (DCA), not The Campaign Registry (TCR).

As 10DLC continues to evolve, the wireless carriers have identified a gap in the registration process - campaigns aren't being registered appropriately and don't adhere to the carriers' codes of conduct. As a result, there have been changes to the sole proprietor use case and now there will be additional review (vetting) completed on newly registered campaigns. There are 3 major changes associated with the campaign vetting process:
All newly created 10DLC campaigns will be subject to manual review and will be placed in a "pending" status until this review is completed.

$15 fee per vetting event.

The provisioning flow will change so that a telephone number (TN) won't be able to be associated with a campaign until it's fully approved.
Pending status
On January 26, 2023, The Campaign Registry (TCR) released a feature that eliminated the auto "accept" option for secondary Direct Connect Aggregators (DCA). This means all new campaigns will be defaulted to a Pending status and will require manual review by the wireless industry's main 10DLC Direct Connect Aggregator (DCA) in order to approve or reject the campaigns. Beginning January 10, 2023, newly registered campaigns that utilize Bandwidth as the Connectivity Partner began to go through the manual review process so we began to see campaigns that appear to be approved in TCR but are still pending with the secondary DCA.
The manual review process will increase the time it takes for campaigns to be ready for 10DLC traffic so please plan accordingly and register as early as possible. We expect delays of several days for the initial review of a campaign, but it could be longer. Please follow the guidelines in our 10DLC registration best practices to ensure the most expedient and successful experience with campaign registration.
Campaigns in any state other than "approved" by the DCA will be subject to blocking from the wireless carriers. If you'd like to check the status of your campaign, you can use the CSP portal (if you are registering directly with TCR). Once fully approved by the secondary DCA, T-Mobile and Verizon will show Yes in the Elected DCA column. Bandwidth has added this status to our GET API and we've also completed the work that will allow you to receive the DCA_COMPLETE webhook from TCR.

Vetting fee
In addition to this review process, beginning January 31, 2023, the DCA mentioned above is implementing a $15.00 USD vetting fee on 10DLC campaigns. As currently understood, this is an additional new fee that will be charged per "vetting event." While precise implications are still not entirely known, this may mean that if the DCA rejects a campaign two times before it's finally approved, Service Providers would be charged three vetting fees for a total of $45.00 USD for a single campaign's vetting and approval process.
These fees will be passed through a month in arrears so you'll see campaigns vetted in February charged on your April invoice.
Provisioning process
Once campaigns are put into Pending status by the secondary DCA, we are now preventing TNs from being assigned to campaigns until the campaign is fully approved. We're making this change to protect deliverability as some mobile network operators will not support traffic from campaigns in a pending or unapproved status.
Please note, you must import your campaign into the Bandwidth Dashboard in order for it to be shared with our secondary DCA. The date you import is when it will be shared downstream.
When attempting to assign a TN to a campaign that isn't fully approved by the DCA, you'll receive error 12219, "Campaign with id 'XYZ' has not been accepted by DCA2 yet." The new provisioning flow can be seen below: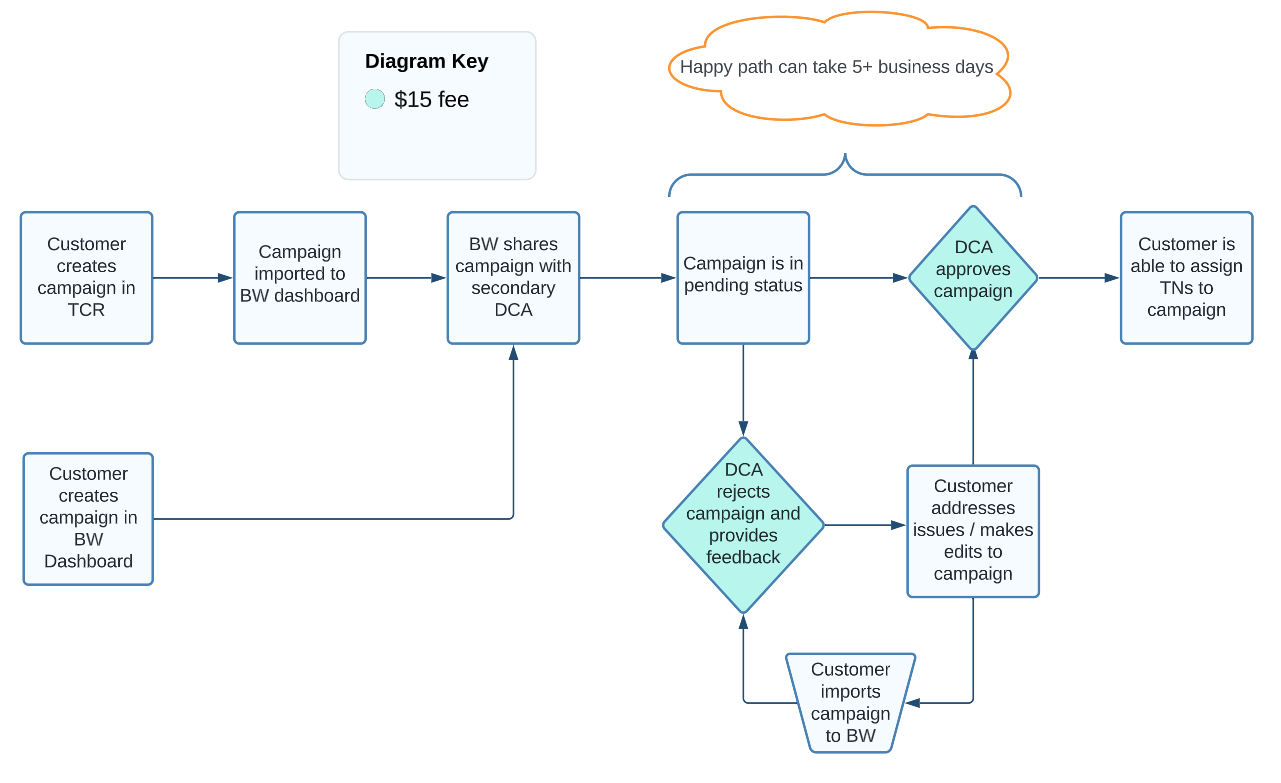 Based on what we currently know, the happy path (straight line through the diagram at the top of the flow chart) can take five business days or more. If there are any rejections that cause a campaign to have to be updated by the customer and flow back through the vetting queue, that will prolong the process and timeline for a campaign to be fully approved. If you're making edits to your campaign after a rejection and need the campaign to be resubmitted to the secondary DCA, please reimport the campaign into the Bandwidth dashboard (via UI or API) and this will trigger us to share the campaign with the DCA again. Bandwidth does not currently support the "nudge" function from TCR. We are working to support it, but in the meantime, reimporting into the Dashboard will achieve the same function on the back end.
Note: Any time a campaign is reimported while in a rejected status, we'll share the campaign with the downstream DCA. It's best practice to only reimport the campaign once you are fully done making updates to the campaign and are ready for it to be resubmitted. Please do not reimport the campaign multiple times as it may result in multiple vetting events unnecessarily.
This new vetting process will add additional time to have your campaign ready, but there's one more component to the registration before your traffic is considered fully 10DLC compliant with all carriers. After TNs are assigned to a campaign, the following steps are taken to ensure you are fully registered with each carrier:
AT&T and Verizon

– once TNs are assigned to a campaign, Bandwidth sends an API call to NetNumber to associate the TN with the campaign in the Override Service Registry (OSR).

This process typically takes less than 30 minutes unless there is queueing at NetNumber.

Completion of this step means AT&T and Verizon are fully registered and compliant.

T-Mobile

– there is an additional step to add the numbers and campaigns to T-Mobile's A2P provisioning platform

Once a TN is associated with an approved campaign, we utilize an API through the DCA that will add the TN(s) and campaign(s) to this platform.

If we receive a positive response from this API, we will then send one final API call to NetNumber. This signifies to T-Mobile that a TN is fully provisioned when you send traffic.

The T-Mobile portion of the provisioning can take anywhere from minutes to a few additional days depending on how much traffic is being sent into their provisioning platform at the time.
Below is the flow for the carrier registration steps once TNs are assigned to the campaign in Bandwidth Dashboard: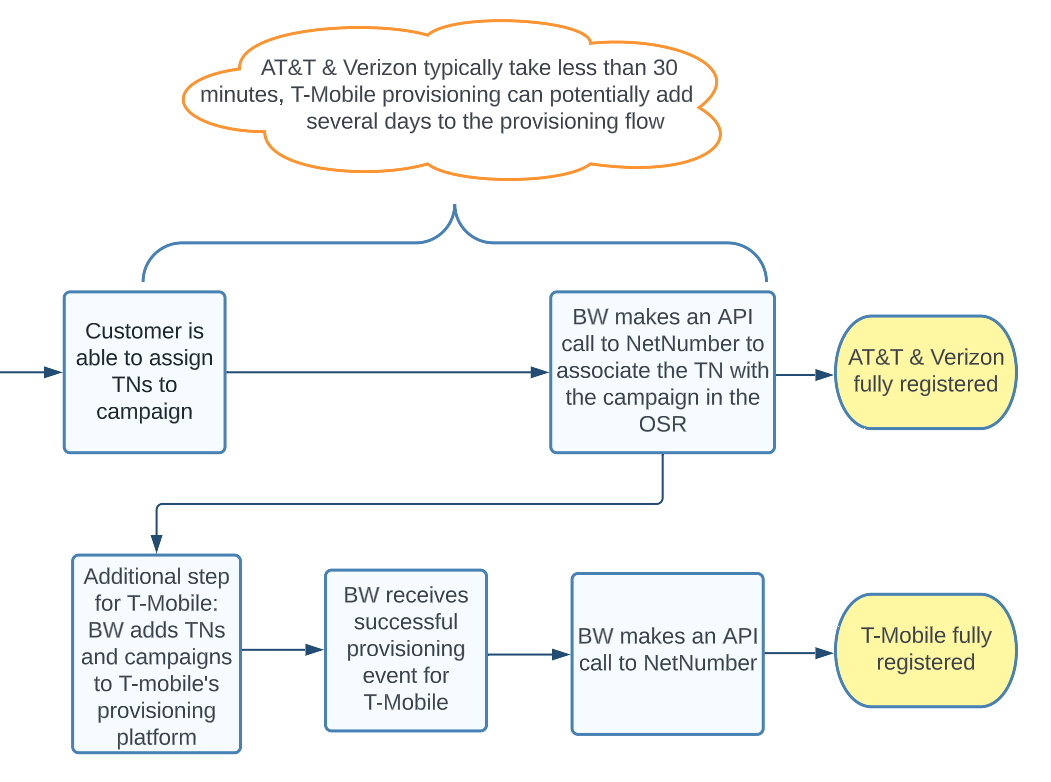 Was this article helpful?
8 out of 17 found this helpful