How to Download Your Invoice from Bandwidth
Follow
This article references the 'New' interface in the Bandwidth Dashboard. Looking for the 'Classic' experience? Click here!

To download your monthly invoices from the Bandwidth Dashboard: 
Log into the Bandwidth Dashboard.
Select 'Reports' on the top navigation menu, then click 'Billing Records'.
On this page, select 'Invoices' as your report type, and then choose your date range:

You may select the previous month, current month, or a custom date range to download multiple invoices at once.

Click 'Submit' to download a .pdf and a .csv into your web browser:

Your account number, the invoice number, date, and the due date of the specific invoice are all located in the upper left hand side of your invoice
The breakdown of the charges and the total amount due is located on the right hand side of the first page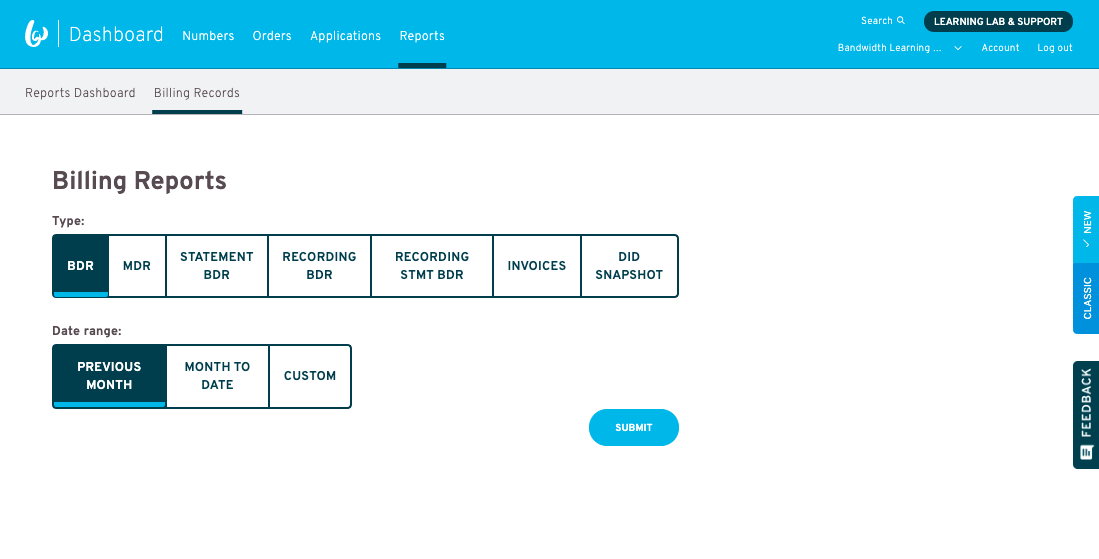 For instructions on how to make payment, take a look at our article on How to Pay your Bandwidth Invoice Online.
If there's a charge on your invoice you are unsure about, please submit a ticket through the Bandwidth Support Center.  For more information on this topic, take a look at our article on How to Dispute a Charge From Bandwidth.
Was this article helpful?
1 out of 7 found this helpful