How do I create new users in the Bandwidth Dashboard?
Follow
Account admins can create new user logins to give other team members access to their Bandwidth Dashboard account. Admins also have the ability to create API credentials that allow their software developers to authenticate their applications to Bandwidth's APIs.
How do I create a new user?
Log into the Bandwidth Dashboard.
In the top navigation menu, select Account and click Users.
Click Add.
Enter a username, first and last name, email address, and work phone number. This is a critical step as it'll be used for validation later.
Note: The username can't be changed once the user is created, so please make sure to double-check it before saving. The phone number must be typed in a 10-digit format. Each user will need to verify it using the same exact format.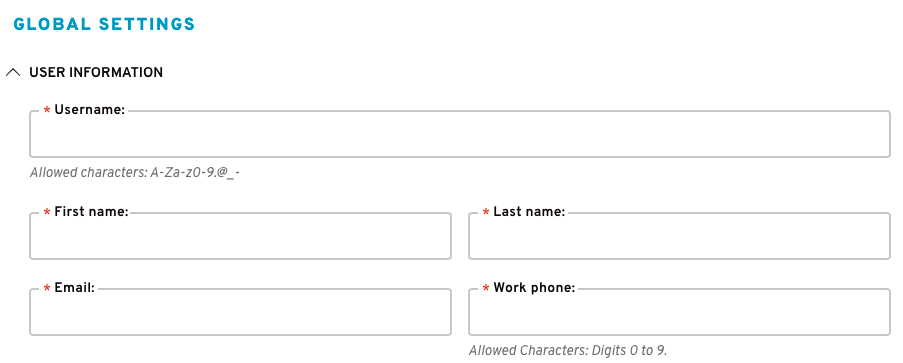 Administration level: An account admin can manage users, while a basic user can only edit and view their own profile.

User access methods: Determine how this user should interact with the Bandwidth Dashboard or APIs by selecting one of the following user access methods:



Allow user to login to the Bandwidth Dashboard: This user will be allowed to log into the Bandwidth Dashboard and required to reset their password every 90 days.




Allow user credentials to authenticate API: This user will be allowed to use their credentials specifically to authenticate API calls. Since API users are expected to do automated processes, they won't be required to reset their password but also will not be able to use it to log into the Bandwidth Dashboard. To address this, many developers choose to have two sets of credentials: one to access the Bandwidth Dashboard and another API-only to validate API calls.


Important: You can also check both boxes, but it should only be done in special cases and isn't recommended for most users. Although we don't force password resets for users with API-only or both access methods, we do encourage you to enforce your own automated password reset best practices.
Password: As an account admin, you can set up this user's password. Please be sure to let them know what it is so they can log in. You can also skip this and let the user set it themselves.
Roles: Set the permissions for this account. From here, click to toggle the permissions your user will need to access for their job. User role definitions are available below.
Accounts: If your company has multiple Bandwidth Dashboard accounts, you can grant access to those here.
Click Save Changes.
The user will receive an email containing their username and asking them to verify their account information. Once they verify it, they'll receive a second email containing their password. If you didn't create a password for the user, they'll be able to do so themselves.
How do I deactivate a user?
Users can be deactivated, but they can't be deleted. To deactivate a user:
Log into the Bandwidth Dashboard.
In the top navigation menu, select Account and click Users.
Select the user you want to deactivate.
Set the toggle switch to Deactivated.
User role definitions
Billing Reports
Allows user to create and view billing reports.
Campaign Management
Allows user to manage campaign provisioning.
Configuration
Allows user to configure Sub-accounts and Locations.
Disconnect
Allows user to disconnect phone numbers.
E911 Management
Allows user to manage E911 settings (applicable for UC accounts).
External TNs
Allows user to access external TNs API and UI (applicable for Hosted Messaging).
HTTP Application Management
Allows user to manage HTTP applications in the UI (applicable for Messaging API accounts).
HTTP Voice
Allows user to make HTTP Voice API calls.
Line Features
Allows user to manage phone number line features, such as CNAM and DL/DA.
Messaging Insights
Allows user to view

messaging insights.

Numbers Insights
Allows user to view numbers insights.
Ordering
Allows user to search and order new phone numbers from Bandwidth's inventory.
Porting
Allows user to port phone numbers in and out of their Bandwidth account.
Reporting
Allows user to access available reports for their account and create or manage notifications. As long as the product for which the notification is being created is active on the account, an API user can set it up using this process.
SIP Credentials
Allows user to view and manage SIP credentials.
TN Lookup
Allows user to access the TN Lookup API. This also requires TN Lookup to be enabled at the account level.
Voice Insights

Allows user to view voice insights.
Questions? Please open a ticket with your Bandwidth Support Team or hit us up at (855) 864-7776!
Was this article helpful?
25 out of 34 found this helpful