Operator Connect for Microsoft Teams
Follow
With Operator Connect for Microsoft Teams, you can seamlessly Bring Your Own Carrier (BYOC) for PSTN connectivity to power your pure-cloud UCaaS environment. This guide shows you how to bring your Bandwidth phone numbers to Microsoft Teams as part of its Microsoft Operator Connect program.
Bringing Bandwidth as your Microsoft-certified Operator allows you to seamlessly migrate your employee communications to the cloud, leveraging the simplicity of Operator Connect's easy-to-use interface for number provisioning. Your platform can easily plug in Bandwidth's owner-operated network with global reach, giving you direct-to-carrier quality and economics in 34 markets.
Getting started
We recommend reviewing Microsoft's Plan for Operator Connect. You also need:
A registered Bandwidth account with assigned numbers.

A running Microsoft Teams Operator Connect Tenant.
How it works
It's easy to connect numbers from your Bandwidth account to Microsoft Teams and enjoy both inbound and outbound calling services with the following simple configuration. Emergency calling will be configured separately.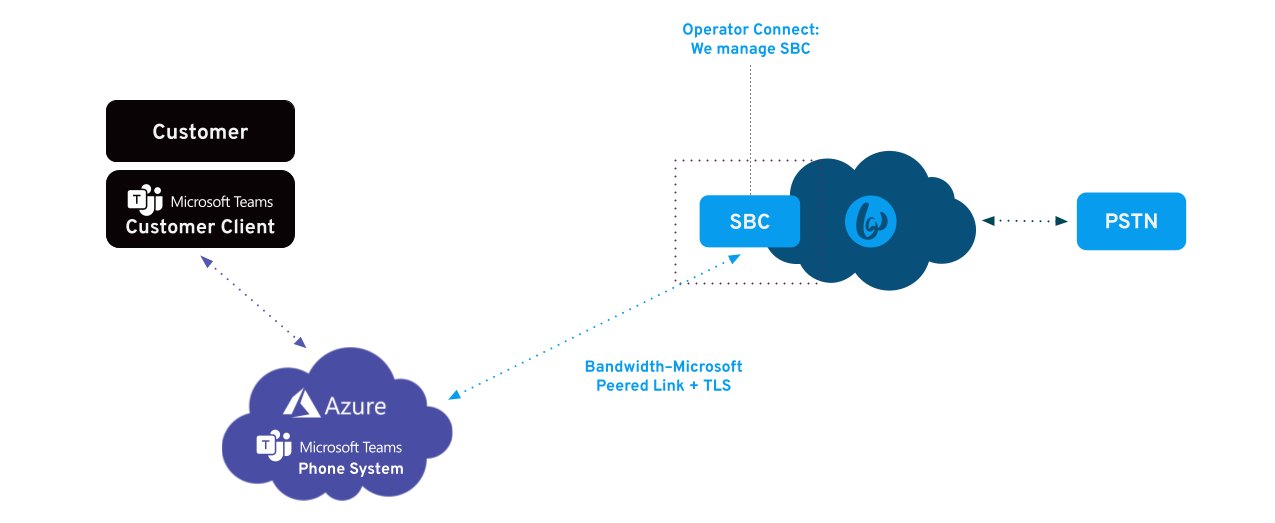 Enabling Bandwidth in Operator Connect
Note: You're required to have the appropriate O365 and MS Phone licenses in order to enable users for Operator Connect.
You can enable, edit, and remove operators in the Microsoft Teams admin center. To enable Bandwidth as your operator:
Log into the

Microsoft Teams admin center

.

In the left navigation bar, select

Voice

and click

Operator Connect

.

Click

All operators

and select

Bandwidth.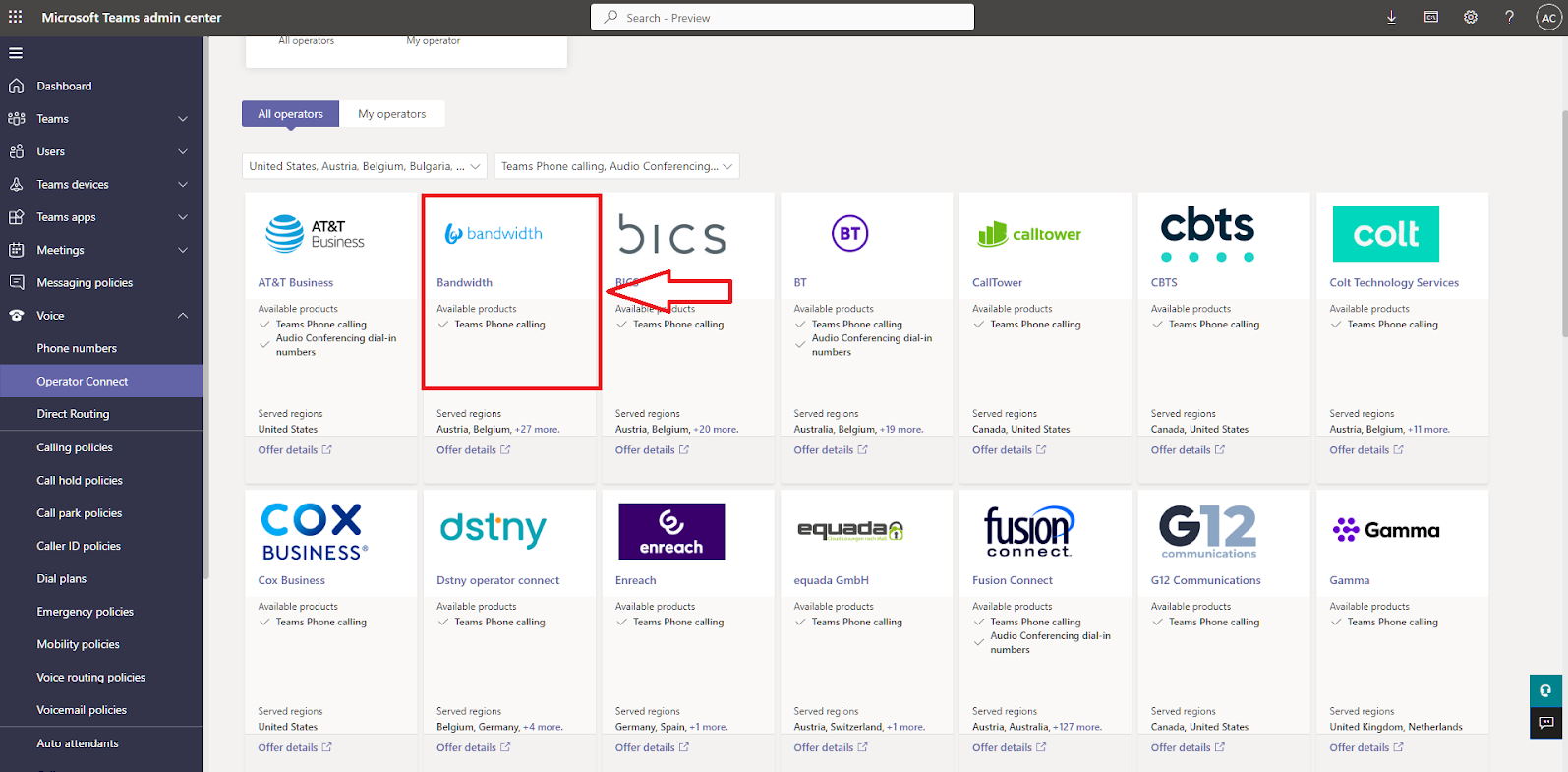 Under

Operator settings

, select the countries you'd like to enable for your account.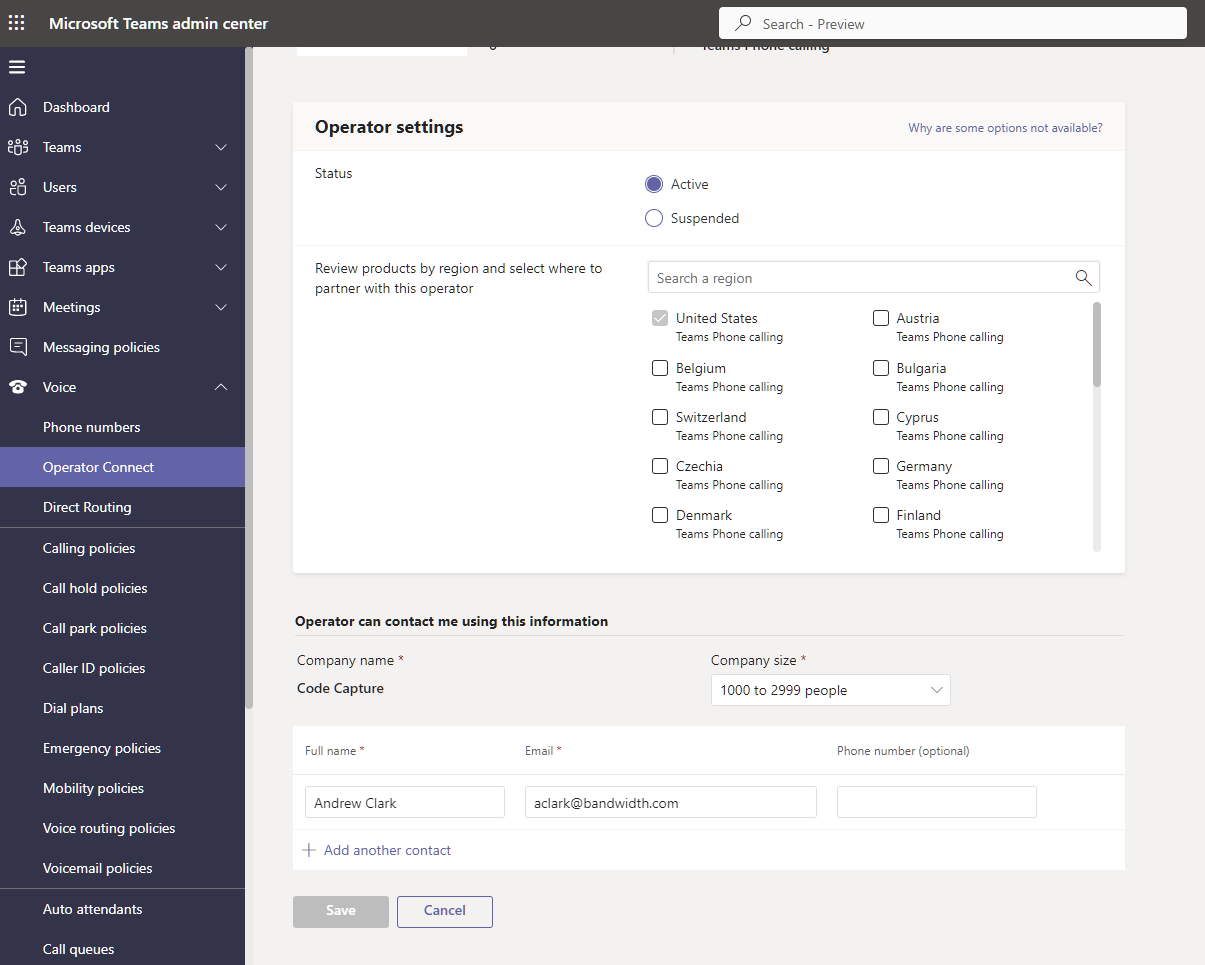 Provide your

contact information

, including your full name, email address, and phone number (optional), which will be shared automatically with Bandwidth, including your tenant ID (you can change this information later.) In addition, please indicate your

company size

. Bandwidth will use this information to contact you with more details about our integration with Operator Connect.

Accept the data transfer notice and click

Save

.
Note: If you plan to move numbers from Direct Routing to Operator Connect, you need to unassign the Voice Routing Policy and de-provision the numbers from the Direct Routing account prior to provisioning them in Operator Connect. For more information related to Operator Connect provisioning, see Configure Operator Connect.
Configuring Sub-accounts, Locations, and numbers
Configuring Sub-accounts
Sub-accounts in the Bandwidth Dashboard help organize your phone number inventory to make grouping services easier. Each account must have at least one Sub-account. Many users choose only to keep one, while others create two to represent development and production environments. To create a Sub-account, complete the following steps:
Log into the Bandwidth Dashboard.
In the top navigation bar, select Account and click Sub-Accounts.
Complete the following fields:

Name: Choose a unique Sub-account name that would be easy for account users to identify.
Address Type: Select Billing or Service.
Street Number
Street Name
Address Line 2: Enter an optional second address line (e.g., Unit 123).
City
State/Province
ZIP/Postal code: Enter an optional +4 postal code.
Note: Click Show Optional Fields if you'd like to add optional Customer ID, Customer Name, and Description for your reference.
Click Create Sub-Account.
Configuring Locations
Locations in the Bandwidth Dashboard help you organize your phone number inventory and configure your integrations for Voice. When a number is added to a Location, it inherits the settings and properties of that Location. To create a Location, complete the following steps:
Log into the

Bandwidth Dashboard

.

In the top navigation bar, click

Account

and select

Locations.

Click

Add Location.

Complete the following fields:

Name:

Enter the name of this Location. This field is required but can contain anything that makes sense to the Location provisioning.

Description:

An optional field where you can add a description of this Location.

Sub-Account:

Select a Sub-account that you want to associate with this Location.

Default location:

Turn this switch on if you'd like this to be the primary Location. This means that when you order or port a number, this Location will show up first after you select your Sub-account.
Select Voice and click Integrations.

In the

Integration Platform

drop-down menu, select

Microsoft Teams Operator Connect

.

In the

Microsoft Teams Tenant ID

field, enter your Tenant ID and click

Create Location

.

Under Number Assignment Type, select the appropriate option:

User is for typical usages

(End User Assignment)

Voice Application is for Microsoft Application Support (IVR and Call Queues)

Click Create Location.
Note: If your Location has been successfully created, it means your Operator Connect tenant has been accepted. If you haven't requested Bandwidth as an Operator in your tenant, you'll receive the following error: "This tenant is not currently available for Operator Connect. Please accept Bandwidth as your Operator Connect provider first, and then you will be able to provision your location with this tenant."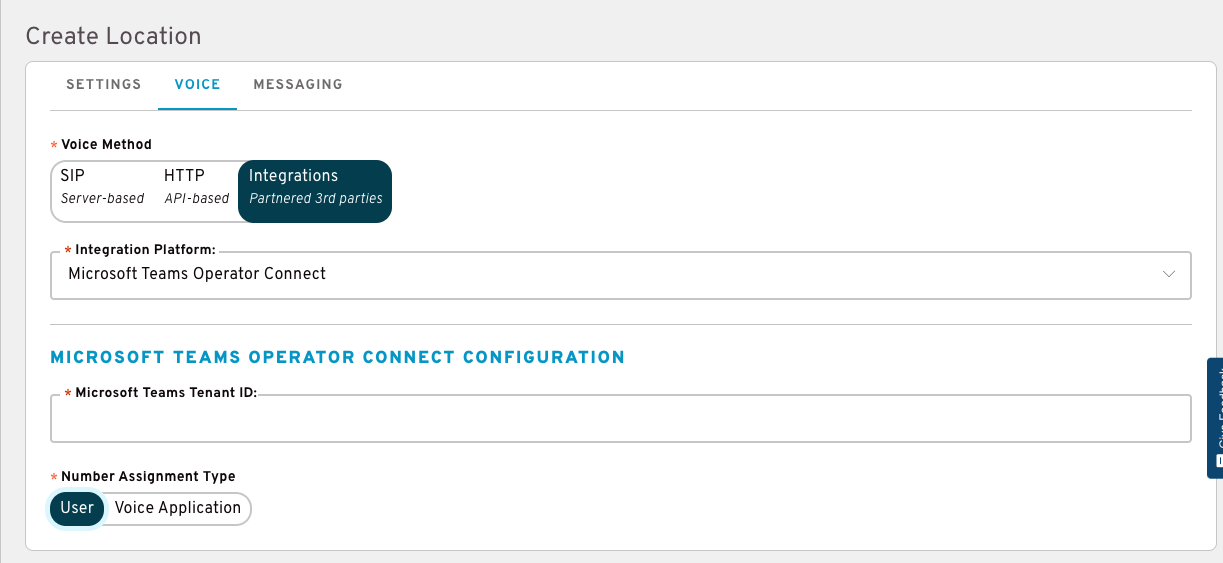 Assigning numbers to Locations
The last step is to add numbers to the Location you just created. For more information, see how to search and order phone numbers or how to move phone numbers to a different Sub-account or Location.
Provisioning numbers for Operator Connect
Provisioning numbers for users
Any number within the configured Location will be automatically provisioned to your Microsoft Teams tenant. The number(s) are now ready for user assignment.
Provisioning numbers for resource accounts
Create a Location without any Voice settings and assign numbers that will be associated with a resource account in Operator Connect, such as a Calling Group or an Auto-Attendant. Please open a ticket with the Bandwidth Support Team if you'd like to use your numbers for resources instead of users, as Bandwidth is required to perform a manual sync with Operator Connect.
Was this article helpful?