Registering Brands and Campaigns for 10DLC
Follow
There are two options when it comes to registering Brands and Campaigns. Either registering with The Campaign Registry (TCR) or registering through Bandwidth. Both options will require the association of Campaign IDs to phone numbers (TNs) through the Bandwidth Dashboard.
Carrier views on Brands and Campaigns
AT&T is focusing on the Campaigns registered to each Brand and building out throughput restrictions based on the type of Campaign and use case. They have different surcharges based on the Campaign class assigned, and having a single use case on a Campaign lowers the surcharge.
T-Mobile focuses on the Brand rather than the Campaign with a daily allowance for throughput allocated to the Brand itself. If a Brand has multiple Campaigns under it, then the allowance is shared across all Campaigns. They have a single flat rate when it comes to surcharges.
Not sure who your account manager is? Please open a ticket with your Bandwidth Support Team or hit us up at (855) 864-7776!
Dedicated Campaign vs. Mixed Campaign
DEDICATED
MIXED

PRO

When a single use case is on a Dedicated Campaign, non-compliant messaging only affects that one Campaign.

PRO

Can use single number for multiple use cases. Involves a single Campaign fee.

CON

Increased cost as each use case has to be registered as its own Campaign.

CON

When use cases share a Campaign, non-compliant messaging on one use case could suspend service for the entire Campaign.
Low Volume Campaigns
Low Volume Campaigns are designed for sending less than 15,000 messages a month across all carriers. The Campaigns are designed for messages that aren't time sensitive, as they're limited to 6 messages a minute on the AT&T network. These can be an excellent lower cost option for use cases that aren't going to be volume heavy.
Sole Proprietor
The Sole Proprietor type is available for customers who don't have an EIN number. It has the lowest throughput and the lowest cost. These customers are limited to 1,000 messages a day to T-Mobile. The T-Mobile Campaign Activation fee will not apply to these campaigns.
Standard use cases
Standard use cases are automatically approved.
2FA: Any one time use passcode, authentication, or verification.
Account Notifications: Standard notifications for account holders.
Customer Care: Customer interactions, including account management and customer support.
Delivery Notifications: Status of delivery of a product or service.
Fraud Alert Messaging: Notifications about potential fraudulent activity on a user's account.
Higher Educations: Messaging on behalf of colleges or Universities as well as School Districts and education institutions. This use case is not for the "free to the consumer" messaging model.
Low Volume Mixed: Brands that have multiple use cases but only need very low messaging throughput (ex: test or demo accounts, small businesses).
Marketing: Communications that include marketing or promotional content (ex: sale notifications, discount codes, etc).
Mixed: Any messaging campaign containing 2 to 5 standard use cases.
Polling and Voting: The sending of surveys and polling/voting campaigns in non political arenas.
Public Service Announcement: Informational messaging to raise an audience's awareness about important issues.
Security Alert: Notification that the security of a system, either software or hardware, has been compromised and an action is needed.
Specialty use cases
Speciality use cases require additional approvals and/or steps. The approval is not instant and may take additional time.
Carrier Exemptions: Exemption by carrier. Select this use case only if you have a previous agreement with the carriers or your Campaign will be blocked. Please contact your Bandwidth Account Manager if you think you qualify. Not sure who your Account Manager is? Please open a ticket with your Bandwidth Support Team or hit us up at (855) 864-7776!
Charity: Communications aimed at providing help and raising money for those in need. This includes 501(c)(3) charities, but doesn't include religious organizations.
Conversational/Proxy: Peer-to-peer app-based group messaging with pooled/proxy numbers. Supports personalized services and non-exposure of personal numbers for enterprise of A2P communications. When submitting, please describe your use case thoroughly to allow for the carriers to review as required.
Sweepstakes: Gambling and sweepstakes messaging.
Group messaging: Peer-to-peer group messaging and/or supporting personalized services with non-exposure of personnel numbers for enterprise.
Emergency services: Public Safety notifications designed to support public safety/health during natural disasters, armed conflicts, pandemics, and other national or regional emergencies.
Insurance agents, franchises, local branches: Brands that have multiple agents, franchises or offices in the same brand vertical, but require individual localized numbers per agent/location/office. Please provide use case details when submitting, and allow time for carrier approval.
Large CSP free trial: Strictly controlled category for pre-approved Campaign Services Providers (CSPs). Must show spam mitigation controls and controlled onboarding of developers. Will have low throughput. Requirements are currently being finalized.
Political messaging: Part of organized effort to influence decision making of a specific group. All Campaigns must be verified. If an organizations is a 501 (c)(3) they should register under the charity class. If a 527 organization needs to register, they should register with Campaign Verify to receive a token that can then be input on the Brand page in order to register a Political Campaign.
Social engagement: Communication between public figures/influencers and their communities. Restricted and upon business case review. Strictly limited.
Throughput
If you'd like to receive higher throughput, please make sure the Brand information is accurate and doesn't include out of date or misspelled data. You can also pay for additional vetting but there is no guarantee that a higher tier will be assigned.
AT&T and T-Mobile Specifications
AT&T
Message Class
Use Case
Campaign Type
SMS Fee
MMS Fee
AT&T Messages Per Minute (MPM)
A & B
Russell 3000
Standard
.002
.0035
4500
C & D

Large Business

(Vetting required to move from E & F to a higher class)

Standard
.002
.0035
2,400
E & F
Medium Business
Standard
.002
.0035
240
T
Small Business
Standard
.002
.0035
75
W
Very Small Business/ Sole Proprietor
Standard
.002
.0035
15
Not Tagged/ No Class
Untagged traffic after grace period
.004
.005
Treated at P2P
throughput rates
and SPAM filters
G
Group Messaging
Special
.002
.0035
60
K
Political Messaging
Special
.002
.0035
4500
N
Insurance Agents, Franchises, Banks
Special
.003
.0035
60
P
Charity (Nonprofit 501(c)(3))
Special
N/A
N/A
2400
S*
Social Media Platform
Special
.002
.0035
60,000
X
Govt Emergency/ Public Safety
Special
N/A
N/A
4500
Y
K-12 Schools
Special
N/A
N/A
720
*Platform must obtain "double opt-in" consent from customers and Carrier Approval is required.
T-Mobile Daily Brand Limits
*Daily Bucket Maximums are inclusive of T-Mobile, Sprint and their MVNO's.
Risk Score Qualification
Vetting Type
Score

Bucket Range Maximum*

High-Performance

Default

75

200,000

Low-Performance

Default

0-24

2,000

High 3

rd

Party

3

rd

Party

75-100

200,000

Upper Mid

3

rd

Party

50-74

40,000

Lower Mid

3

rd

Party

25-49

10,000

Low

3

rd

Party

0-24

2,000

Special

N/A

Discretionary

Discretionary
Registering a Brand and Campaign Through Bandwidth
Note: This information is subject to change based on the requirements of The Campaign Registry.
Registering a Brand is a one-time set up that you'll be asked to do only if you have yet to complete it. You'll also be asked if you're a reseller or not. A reseller is someone who supports multiple Brands besides their own. They're reselling Bandwidth's services and will be able to register additional Brands besides their own.
Registering your Brand
Log into the Bandwidth Dashboard and select Campaigns in the top navigation bar. If you haven't registered your Brand yet, you'll be directed to the Local A2P page.
Click Register My Brand to begin the Brand registration process.

Complete the Brand Details form and click Next.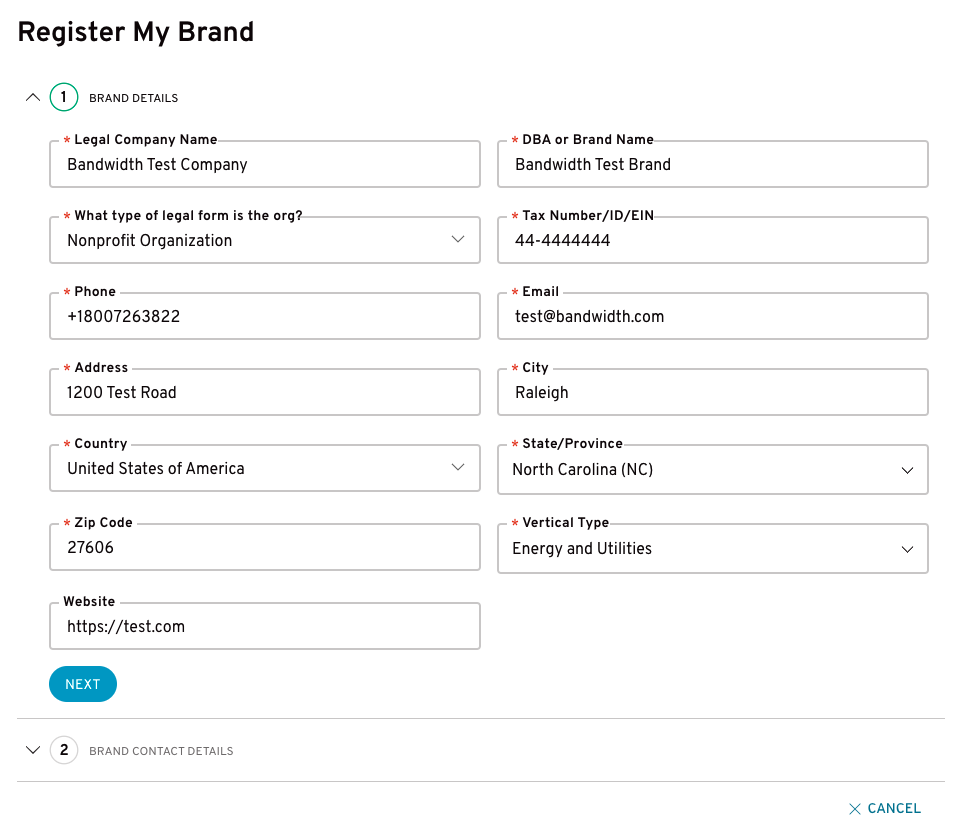 Complete the Brand Contact Details section.
If you're a direct customer and won't be managing Brands and Campaigns for other companies, you can select I'm a direct customer and click Register to register your Brand.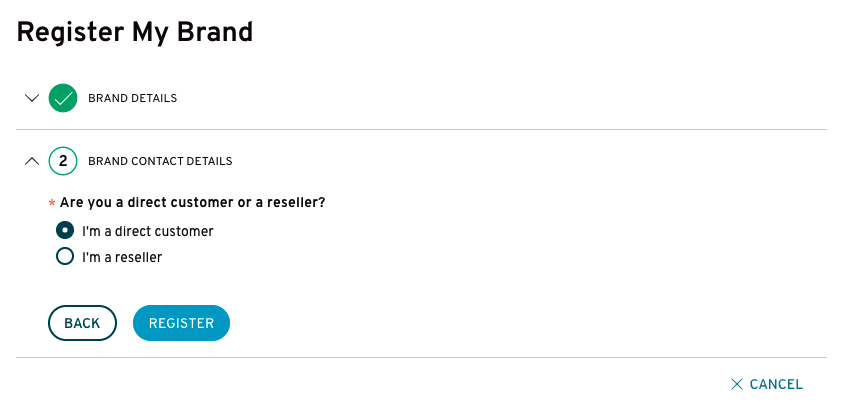 If you're a reseller, you can select I'm a reseller, fill out the required information, and click Register to submit your reseller details and register your Brand.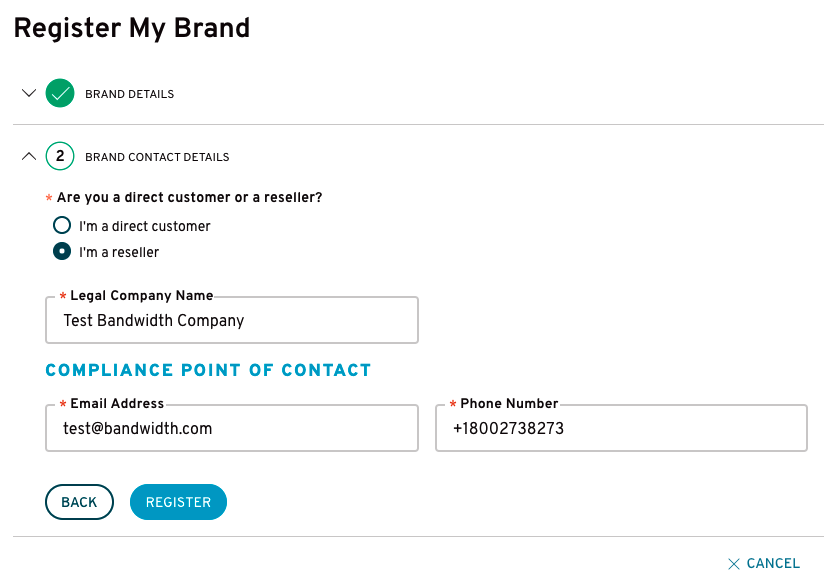 After successfully registering your Brand, you'll be directed to the Brands page. If you're a direct customer, you'll only see your Brand. If you're a reseller, you'll see your Brand and your Customer Brands.

Registering Customer Brands
If you're a reseller, you can add as many Customer Brands as you'd like. On the Brands page, click Add Customer Brand, enter the brand details, and click Register.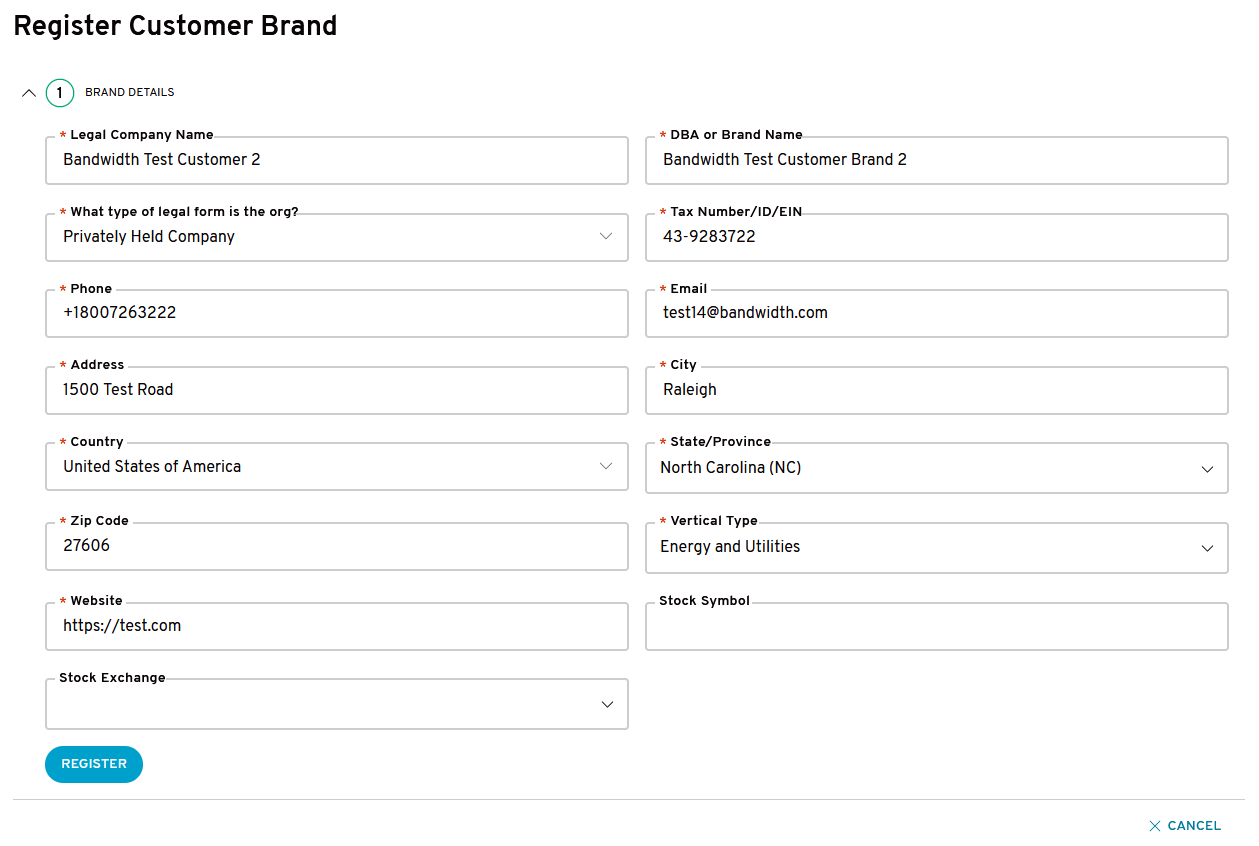 Editing Brands
To edit either your Brand or your customer Brand, click the Edit button next to the Brand you'd like to update. This will bring up the Brand Details form where you can make your edits.
Note: Certain Brand fields are not editable once they've been registered, and may trigger a re-score of the Brand from TCR.
Registering your Campaign
Log into the Bandwidth Dashboard and select Campaigns in the top navigation bar.
Click Campaigns in the sub-navigation bar. You'll see

a list of Campaigns that have been previously registered on your account.

Click + New Campaign or Create a New Campaign to begin the Campaign registration process.

Select the Brand you want to associate with your Campaign.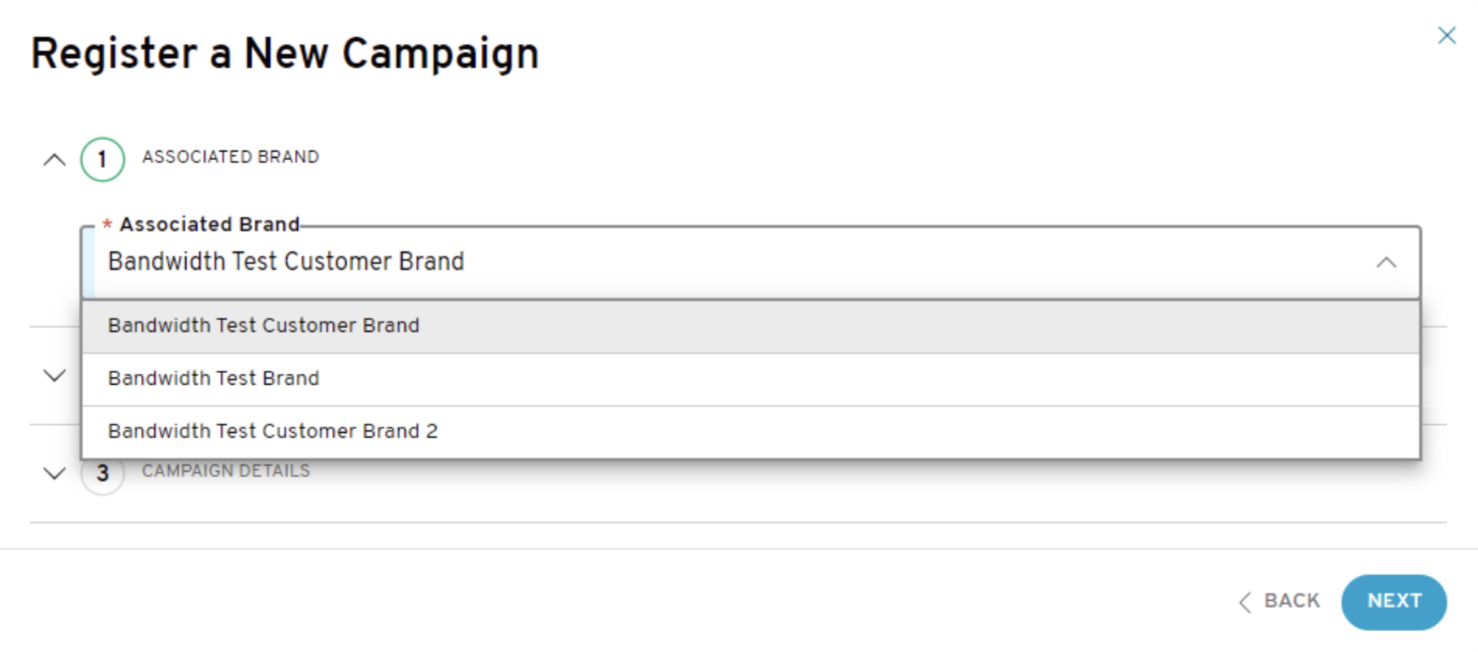 Select your Campaign use case and click Next.

If you have a standard use case, select an option from the Standard Campaign Type column. You only need to select one to proceed to the next section.
If you have a special use case, select an option from the Special Campaign Type column. Please note that these use cases need to go through the Mobile Network Operator (MNO) manual approval processes and may not be approved for some time after registering.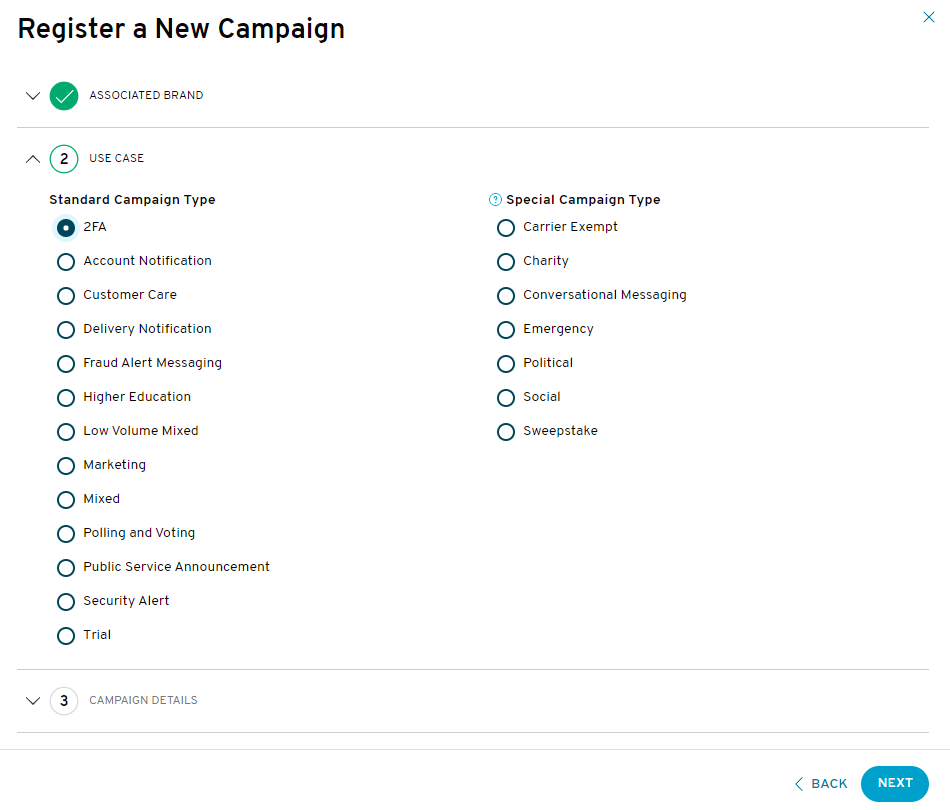 Note: If you select Low Volume Mixed or Mixed, you'll see additional use cases displayed below. You must select two or more to continue to the next section.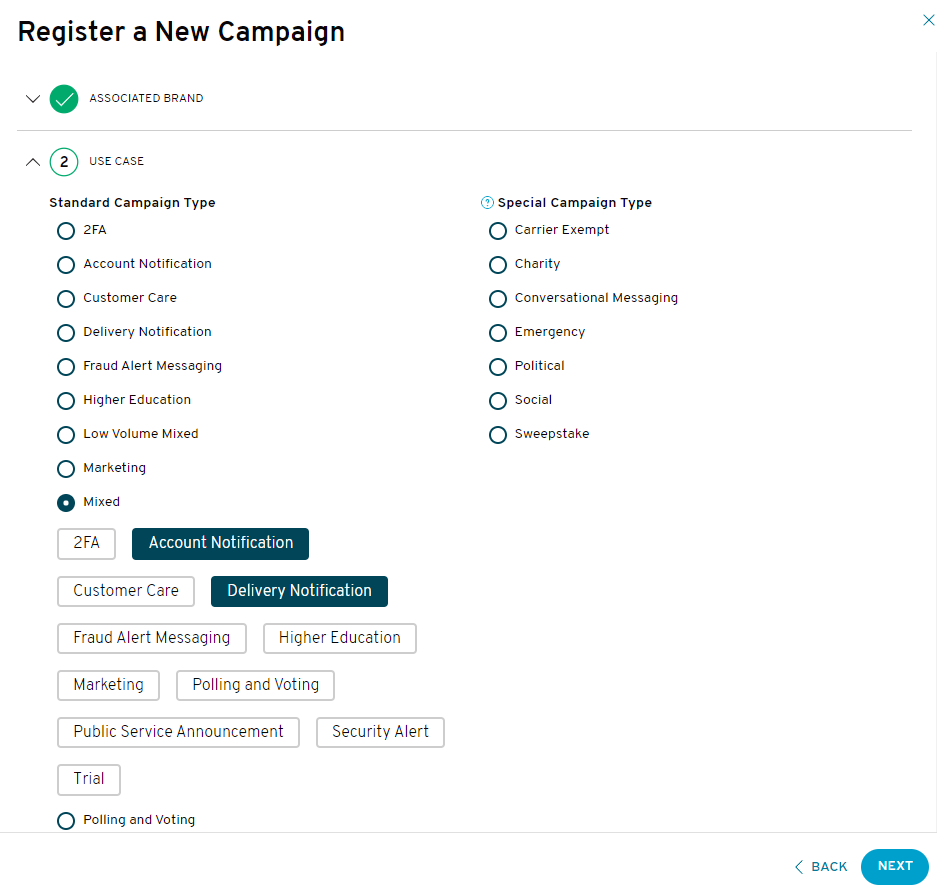 Enter your Campaign details and click Create.
Note: Please don't include emojis when entering sample messages, as this can cause an error.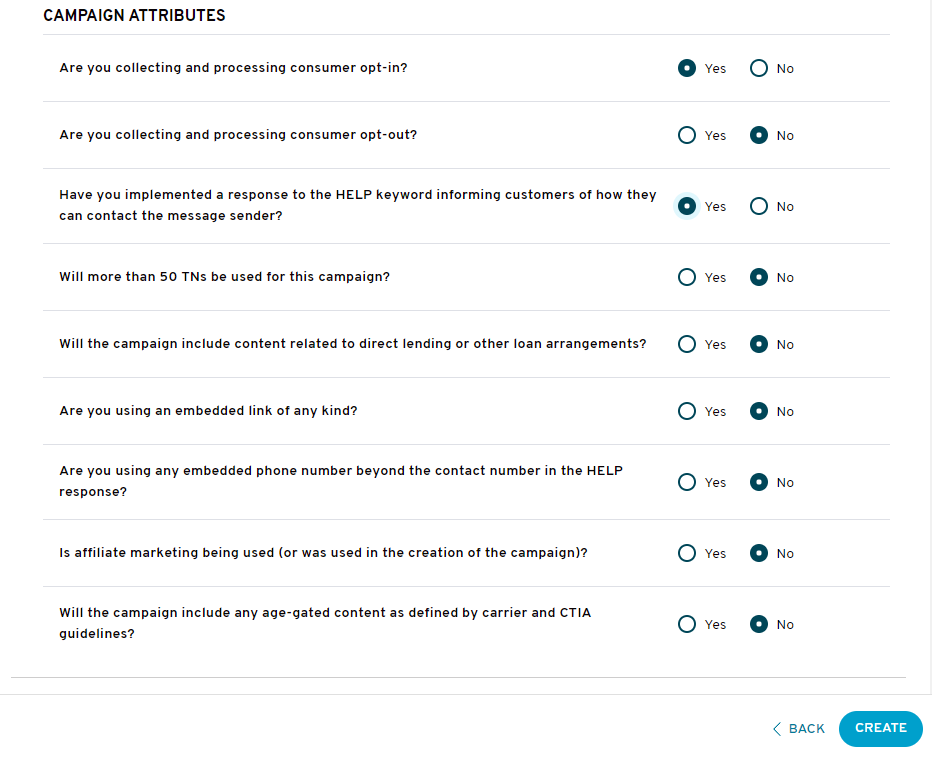 Campaign List
Once you've successfully registered the Campaign, you'll be brought back to My Campaigns page.

Campaign Statuses
You'll be able to view the statuses of your Campaigns on My Campaigns page.
Campaign Status
The Campaign status can be either Active or Expired. Immediately after the Campaign is registered, its status will be set to Active. It'll become Expired only if you deactivate the Campaign yourself or if the auto-renewal is turned off for the Campaign.
MNO Status
The MNO (carrier) status can be either Review, Approved, Rejected, or Suspended. For standard use cases, all MNO statuses will be set to Approved immediately after registering a Campaign. For special use cases, all MNO statuses will be set to Review and will be subject to a manual review process. An MNO can suspend and/or unsuspend a Campaign at any time at their own discretion.
Note: Campaign status and MNO status are entirely independent of each other. A Campaign can have an Active status but still be in Review, Rejected, or Suspended status by one or more MNOs. If the Campaign has an Expired status or if any of the MNO statuses aren't set to Approved, then the Campaign can't be associated to a TN in our system. If a Campaign has already been associated to TN(s) and then becomes Expired or Suspended, it'll be removed from those TN(s).
Error Messages
We have some asynchronous processing that happens behind the scenes after registering a Campaign. In the event of a processing delay, the Campaign in question will have an error message displayed next to it on My Campaigns page. Processing should be complete within one hour. If your Campaign is experiencing a processing delay, it won't be eligible to be assigned to a TN until the delay is resolved.

Campaign Details
While on My Campaigns page, you can click on a Campaign ID to view the Carrier Term Preview and Campaign Details sections.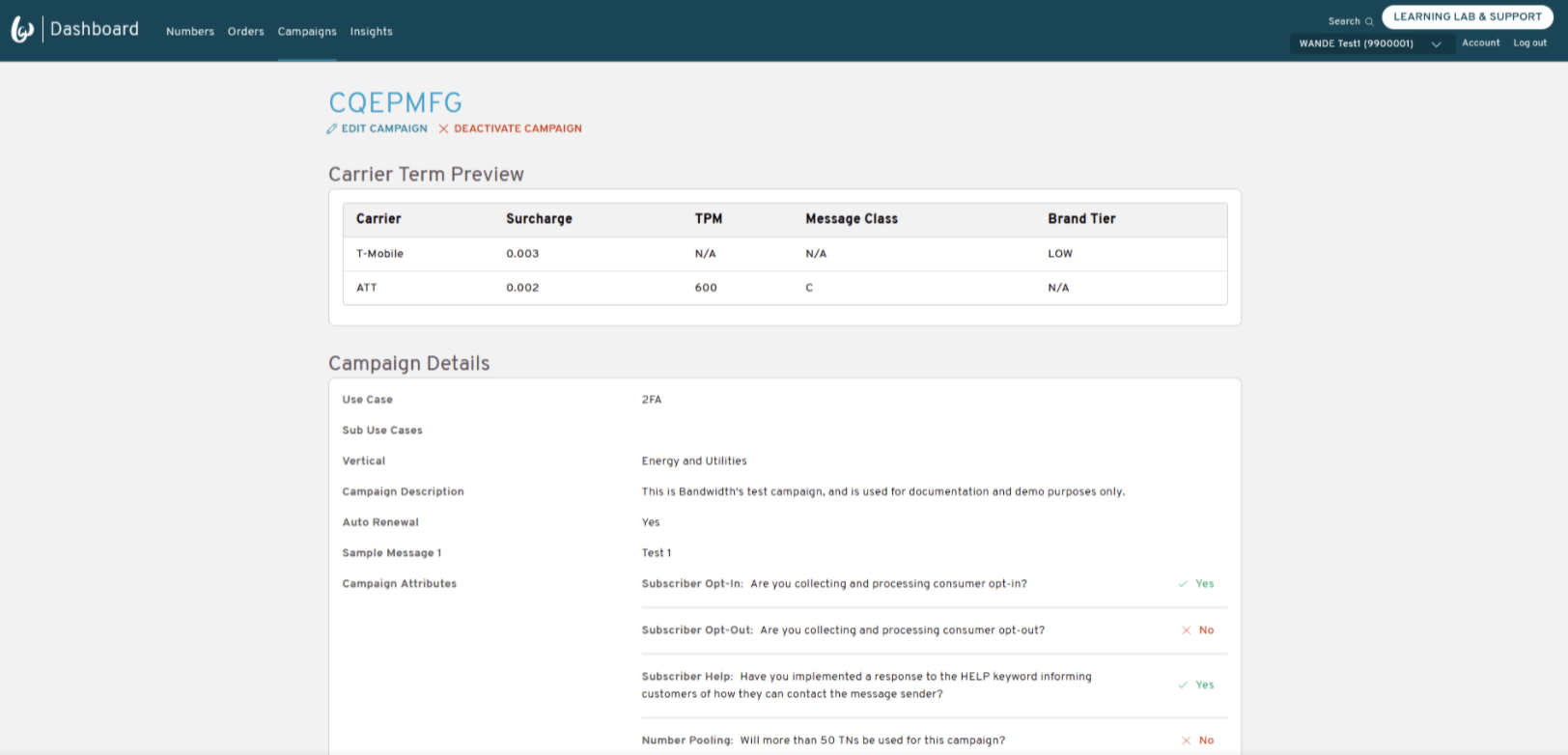 Editing a Campaign
To edit your Campaign, click the Edit Campaign button above the Carrier Term Preview section. The only sections that are editable are Automatically renew campaign? and Sample Messages.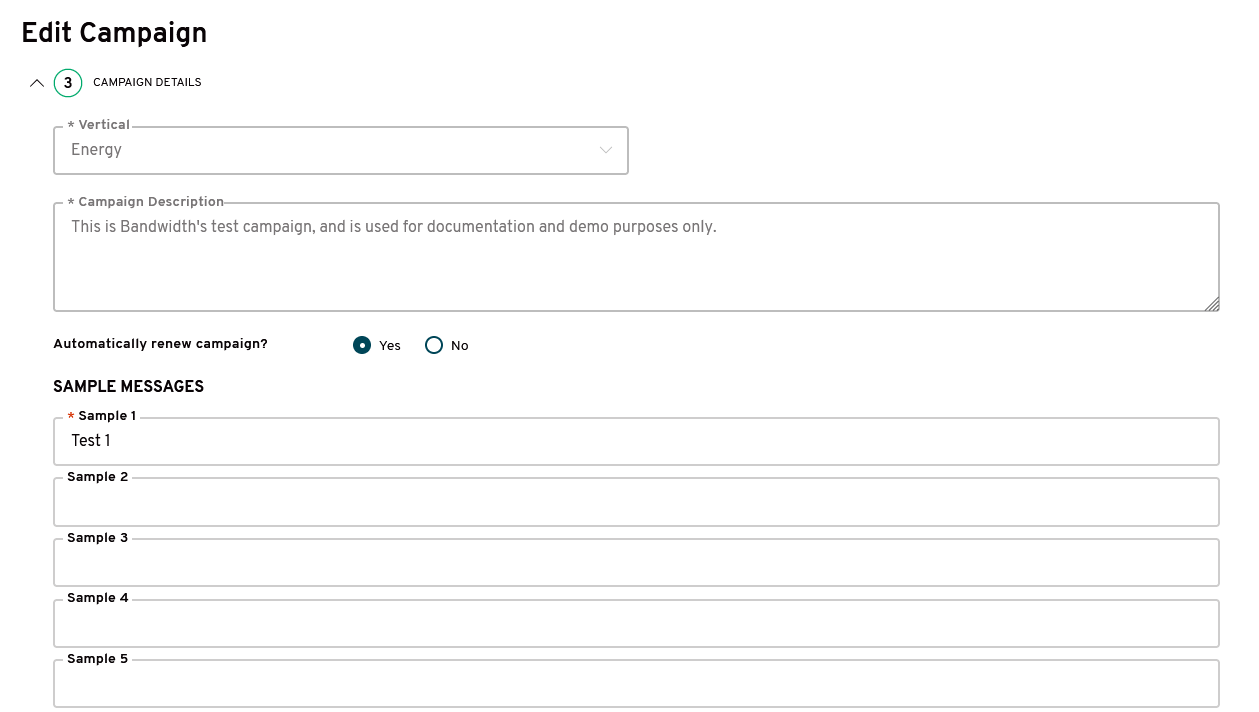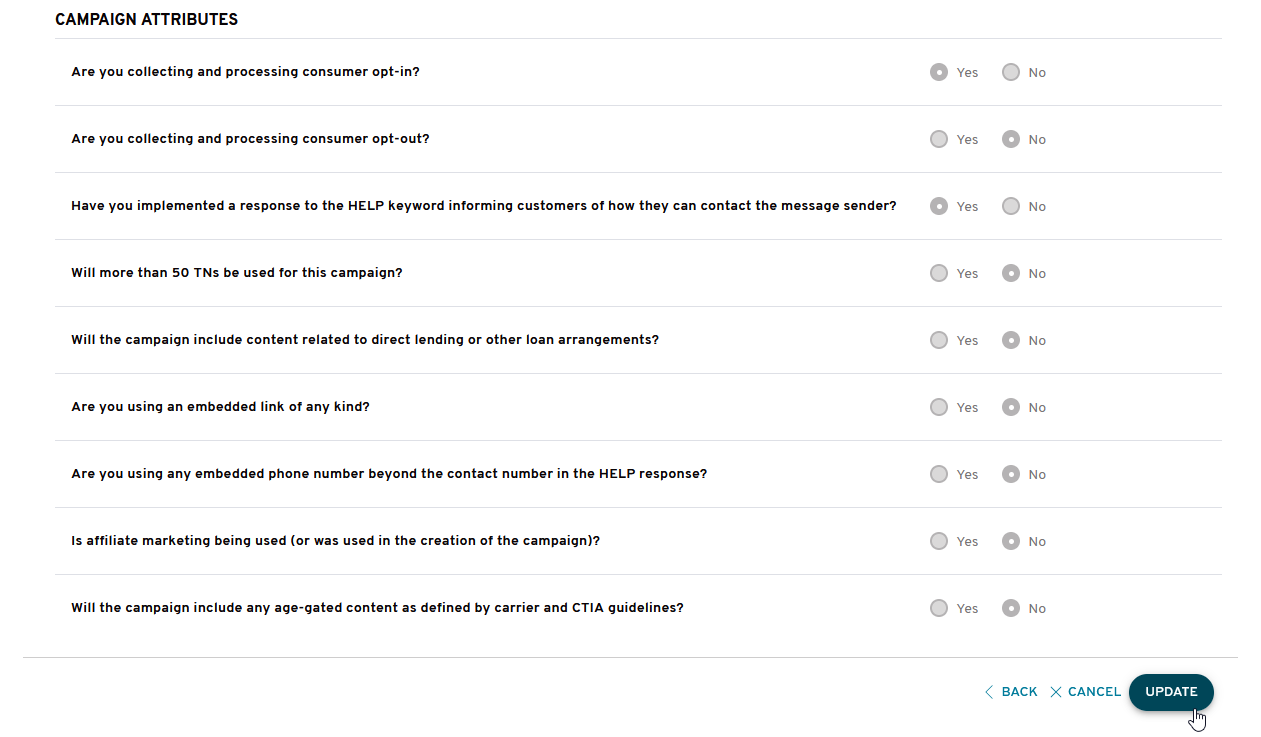 Deactivating a Campaign
To deactivate your Campaign, click the Deactivate Campaign button located next to Edit Campaign. You will be prompted with a warning message. To confirm that you want to delete your Campaign, click Deactivate Forever.
Important: This action can't be reversed. Deactivating a Campaign will change its Campaign Status to Expired and remove that Campaign from all TNs in our system. Please note that Campaigns in Expired status can't be edited or deactivated.

Importing a Campaign
In the top navigation bar, select Campaigns. If your account is set up to import campaigns, you'll be routed to the Imported Campaigns page where you'll see a list of campaigns that have been previously imported to your account.

Click New Imported Campaign. This will bring up a New Campaign modal.
Enter the ID of the campaign you want to import and click Import.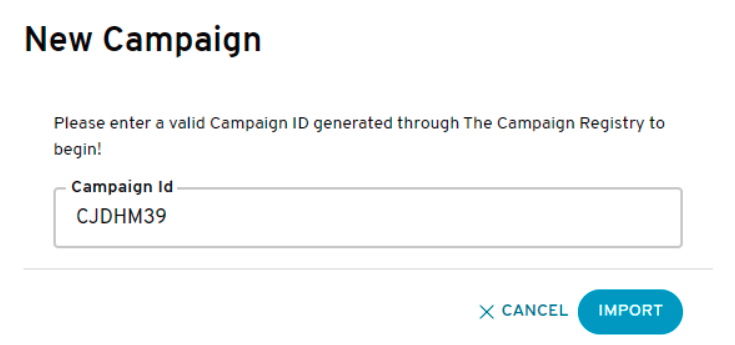 Assigning a Campaign to a TN
This step is applicable if you're registering Brands through Bandwidth or TCR.
Navigate to the Search Telephone Numbers section on right side of the home page.
Enter the phone number and click Search.
Click the blue phone number link. This will take you to the Phone Number Details page.
Once you're on the Phone Number Details page, scroll down to SMS Settings.

Ensure that the SMS Enabled toggle is on and the Use location defaults toggle is off.
Use the A2P Campaign ID drop-down menu to select the Campaign you want to assign to this TN. Once you do that, the A2PLC Message Class field will auto-populate with the message class assigned from TCR.
Click Save. The TN will be associated with the Campaign ID and will be ready for use.
Note: If you don't see the Campaign ID in the drop-down menu, it's likely because: 1. It hasn't been approved by all Mobile Network Operators (MNOs); 2. It's been deactivated and is in Expired status; 3. The background processing for your Campaign has been delayed. This should be resolved within one hour of initial registration. For the full list of statuses and their descriptions, please see our campaign FAQs. For more info on TNs, please see our number ordering guide.
Bulk assigning a Campaign to multiple TNs
In the top navigation bar, select Numbers and click My Numbers.
Select Line Features and

c

lick the download a template .csv file link. This will download the CSV file into your web browser.
Note: If you don't see the file, please make sure your browser is set to allow pop-ups from the Bandwidth Dashboard and try again. If you still can't locate it, check the Downloads section in your browser or the Downloads folder on your computer.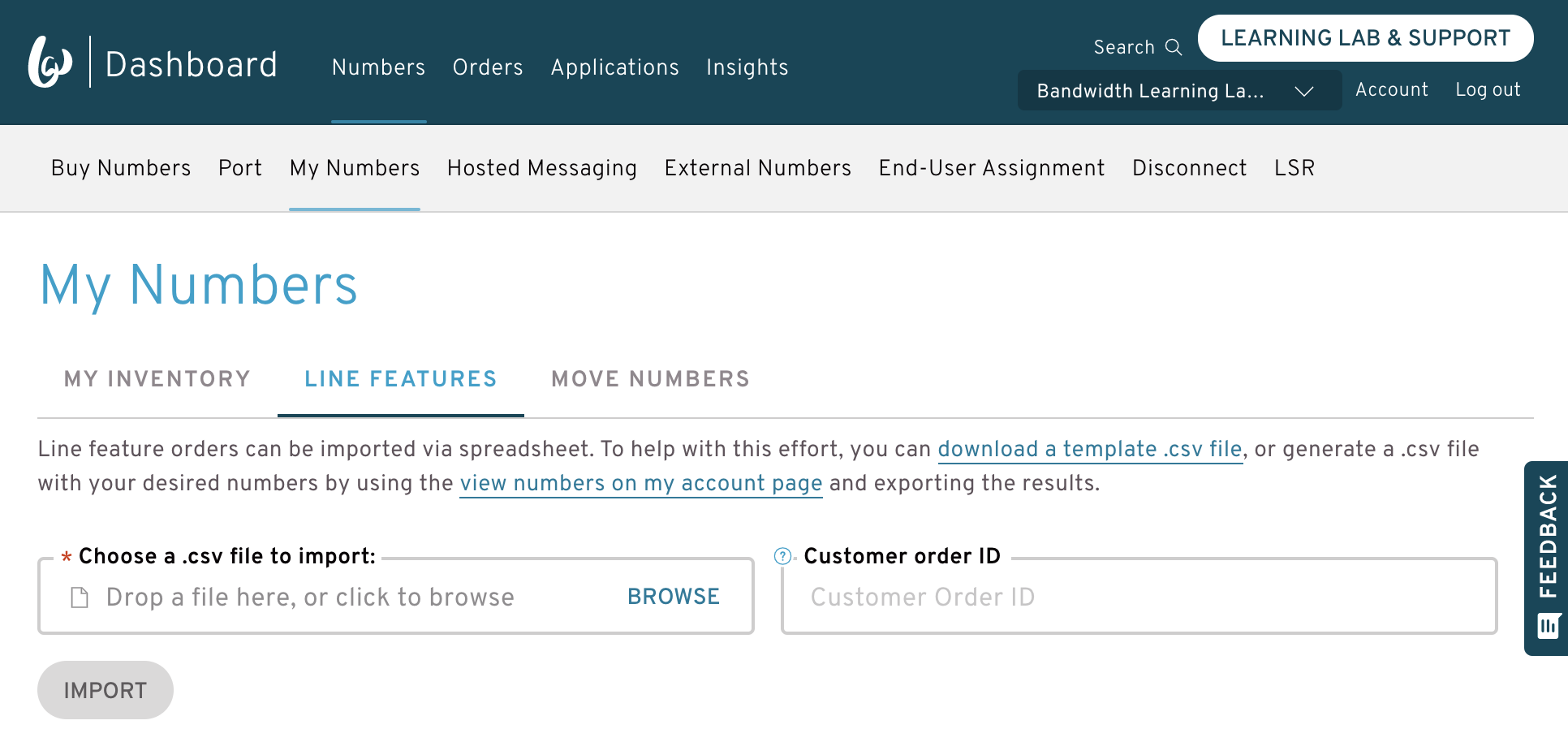 Once you open the template, you'll see sample data that shows how the file needs to be filled out for various features. Please erase all information in rows 3-6 prior to entering your own.

In the TN column, enter the phone number that you want to assign the campaign to. Please use the 10-digit format without spaces, parentheses, or dashes.
In the A2pSettings CampaignId column, enter the ID of the campaign that you want to assign to the number.
In the A2pSettings Action column, type asSpecified.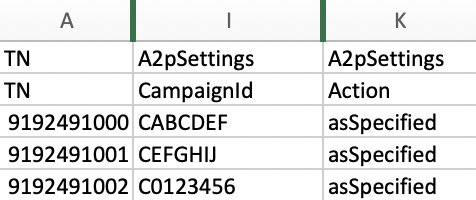 Once you're done, save the file in the .csv format and return to the Upload Line Features page.
Drag and drop the file into the Choose a .csv file to import field or click Browse to search for it on your computer.
Enter an optional Customer order ID that can be used to identify any orders created as a result of this file import.
Click Import to upload your file and start processing your TNs.

Upon successful completion, the TNs will have the appropriate Campaign ID assigned and will be ready for use.
Note: If you encounter any errors when uploading the file, please double-check that the formatting is correct. Errors may occur due to an incorrect file type (anything other than .csv), spaces in the file name, or formatting issues in the file itself.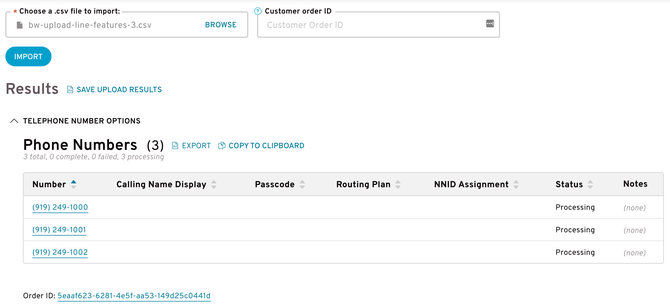 Questions? Please open a ticket with your Bandwidth Support Team or hit us up at (855) 864-7776!
Was this article helpful?
10 out of 14 found this helpful