How do I add or delete E911 Geolocations in the Bandwidth Dashboard?
Follow

Geolocation contains the civic address and any relevant in-building location, such as the floor, suite, room, quadrant, etc. Geolocations are associated with Endpoints for emergency services.
How do I add a Geolocation?
Log into the Bandwidth Dashboard.
In the top navigation bar, click Emergency.
Select Dynamic Geolocations and click Add.
Complete the required fields. If you need additional address fields, such as a number prefix or a street suffix, select Show Detailed Form.
Enter a Geolocation ID that will help you easily identify this Geolocation when associating it with an Endpoint. This will be auto-generated if left blank.
Note: An auto-generated Geolocation ID is guaranteed to be unique. When manually creating a Geolocation ID, the entered ID will be checked against existing Geolocation IDs on your account, If that ID already exists, a warning modal will appear and you can either overwrite the existing address or create a different Geolocation ID. Please be aware that overwriting the current address for a Geolocation ID will impact the 911 call routing for all endpoints associated with it.
Click Add Geolocation.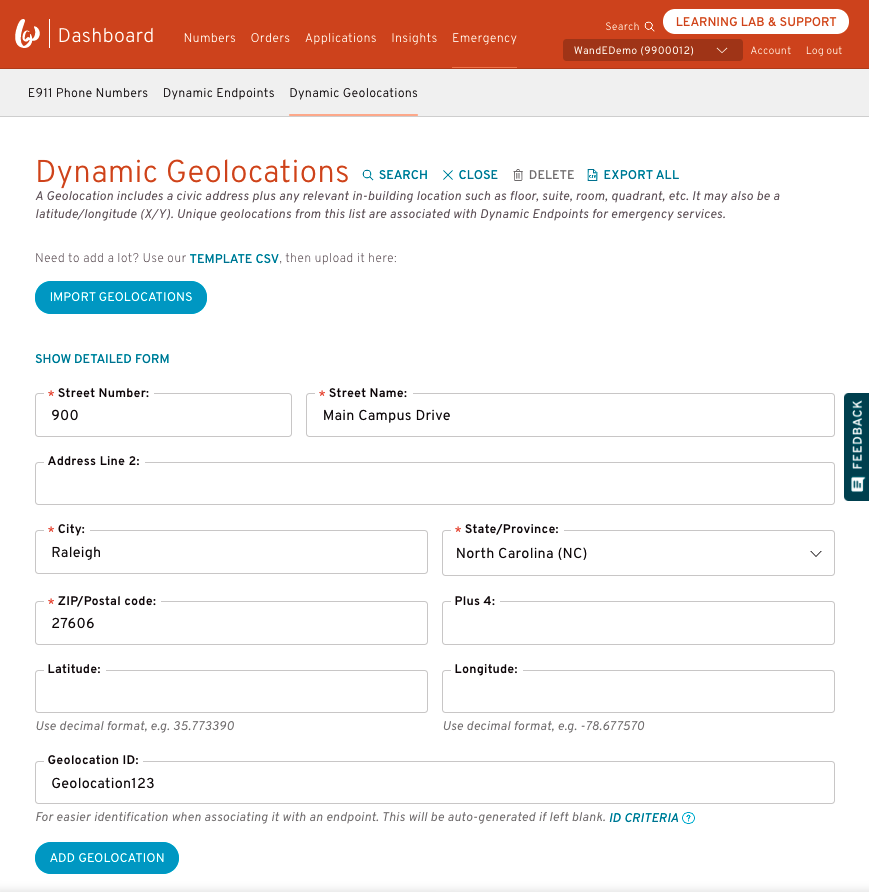 You'll see a confirmation message displaying the submitted address and its reformatted version.

To proceed, click Accept and Submit.
To edit the reformatted address, click Edit Reformatted Address.
To return to the previous page, click Cancel.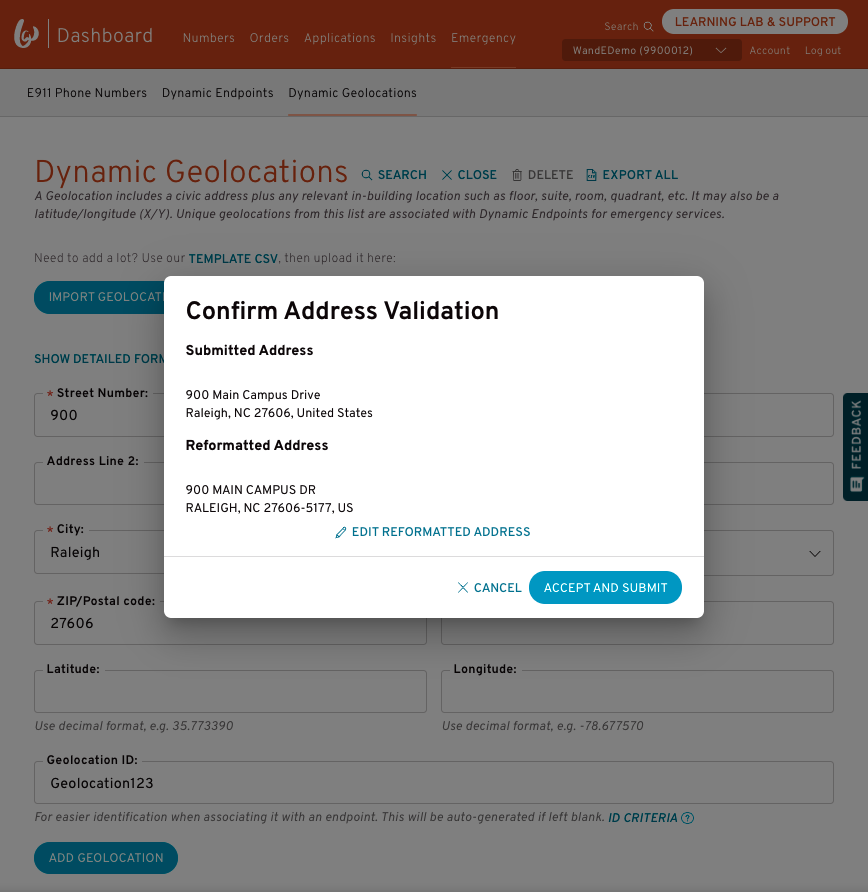 How do I add Geolocations in bulk?
Select Dynamic Geolocations and click Add.
Click Template CSV to download our sample CSV file where you can enter your Geolocations.
Once you've filled out and saved the file, click Import Geolocations.
Drag and drop the CSV file or click Browse to search for it on your device.
Click Save Changes.

How do I delete Geolocations?
Select

Dynamic Geolocations.
Check the box(es) next to the Geolocation(s) you want to delete.
Note: If the Geolocation has one or more Endpoints associated with it, the checkbox will be greyed out. To delete it, you'll first need to associate its Endpoint(s) with another Geolocation.
Click Delete. A countdown will appear at the top of the page. If you change your mind, you'll have 5 seconds to click Cancel before the Geolocation gets deleted.

Questions? Please open a ticket with your Bandwidth Support Team or hit us up at (855) 864-7776!
Was this article helpful?