Am I able to manually trigger (activate) my port order? Can I choose my own activation time?
Follow
We give you the freedom and flexibility to choose the date and time that your numbers are activated so your staff can be on-site or on-call if needed. The trigger time is set to 11:30 am ET by default. However if you mark the 'Customer Activation' option when you're submitting your order, you can unlock the ability to choose your own porting time.
Port Activation Rules for Bandwidth Dashboard

Port orders default to activate at 11:30 a.m. ET. If you mark the 'Customer Activation' option, choose a time as early as 5:00 a.m. or as late as 10 p.m. The times in orange are outside of business hours and won't have support of our porting team.
If no activation time is selected, the port will auto-activate at Bandwidth's standard activation time of 11:30AM ET.

If an activation time is selected on the customer end, the port will auto-activate at that time, unless the customer decides to manually activate the port prior to the chosen activation time.

If the port request needs to be activated prior to the customer chosen activation time, simply follow the steps below to manually activate the port request.
Activating a Port Request
To manually activate a port request on the day of FOC, follow the directions provided below:
Access the port request in the Bandwidth Dashboard web portal after 12:00AM ET on day of FOC.*

On the right side of the page, the Activate/Delay box will appear above the 'Supporting Documents' section.

Click the 'Activate Numbers' box to activate the port request. Please note: No warning message is displayed once this button is clicked. The numbers will immediately begin activating.

Once the numbers have completed the activation process, the order will show a completed status and the phone number(s) in the port request will show 'inService'.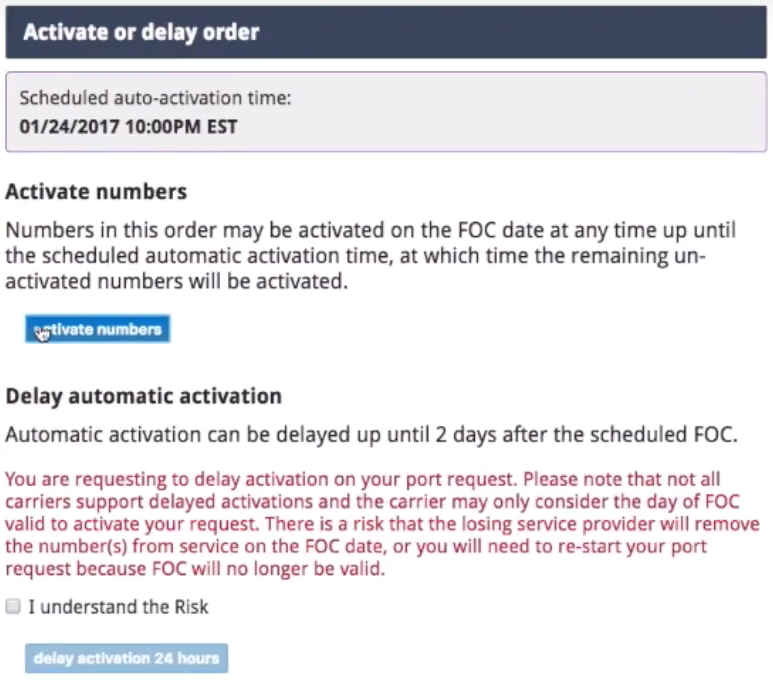 *If the activate/delay box does not appear, it is either not after 12:00AM on the day of FOC, or the order does not yet have proper FOC to port. Contact our LNP team for assistance if you believe this box should appear and is not.
Was this article helpful?
2 out of 2 found this helpful