How can I delay a port order?
Follow
Delaying a port order means bypassing your auto-activation on the Firm Order Commitment (FOC) date and postponing it for a short period of time. The benefit of delaying a port order is that it grants you a grace period to prepare for the activation, without potentially losing the FOC date.
Important: Not all carriers support port order delays, so there's still a risk that your FOC date may be lost. If this happens, your port request may be cancelled and the process will need to start over. The phone numbers on that port will also likely be automatically removed from the losing carrier's network, which will cause those numbers to experience an outage.
Note: Since there are thousands of carriers, we can't state which ones support port order delays.
To delay a port order, please complete the following steps:
Log into the Bandwidth Dashboard.
In the top navigation bar, click Orders and select an order in FOC status that you'd like to delay. This will take you to the Port-In Order Details page.

Note: You can also use the Search for an Order section on the right side of the home page to search for a Port-in order by order status, Bandwidth Order ID, Customer Order ID, Port Order Number (PON), or Billing Telephone Number (BTN).

Navigate to the Activate or Delay Order section on the right side of the page.


Note: This section will only appear on the FOC date.

Read the disclaimer and m

ark the I understand the risk checkbox.
Click the Delay Activation 24 Hours button.

This will immediately begin the port order delay process.

Note: You may request a delay at any time before the scheduled auto-activation on the FOC date. Delays occur in 24-hour increments, for up to 2 days and no later than 4:00 PM on the 3rd day.

You may log into the Bandwidth Dashboard the following day to activate the port manually.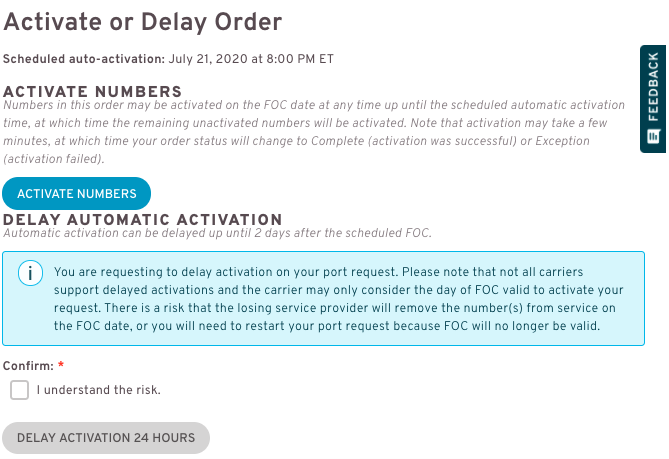 Important: A delay request is never guaranteed. Please remember that any port delay is taken at your own risk and you assume responsibility for any fees associated with a failed port delay.
Questions? Please open a ticket with your Bandwidth Support Team or hit us up at (855) 864-7776!
Was this article helpful?
3 out of 3 found this helpful