How to Set a Custom Activation Time on a Port In Order
Follow
In the Bandwidth Dashboard, you're able to manually activate a Port-In order and choose a custom activation time. Custom activation is a useful tool that allows you to control the activation time on the day of the Firm Order Commitment (FOC), which is the date the losing carrier releases the numbers.
Bandwidth activates ported phone numbers at 11:30 a.m. ET. If you prefer to manually activate the phone numbers on a port request, you can adjust the time using our time scrubber.
Please note: Times before 8 a.m. and after 8 p.m. are outside the standard business hours, so customer support may be limited.
To utilize the custom activation time feature, perform the following steps on a Port-In order to set your activation date & time:
Click 'Edit'

Requested Activation Date

: We recommend choosing a date 4+ business days from your submission date.

Requested Activation Time:

All of our ports default to activate at 11:30 a.m. ET. If you'd like your order to be activated at another time, please use the time scrubber to drag & drop to select a specific time you want the numbers to be activated on the day of FOC.

Customer Activation

: All you need to do is use our "time scrubber" to update your activation time. Once this is completed, our system will treat your port order as one that you're able to activate.

Click 'Continue to Final Review' at the bottom right corner of the screen.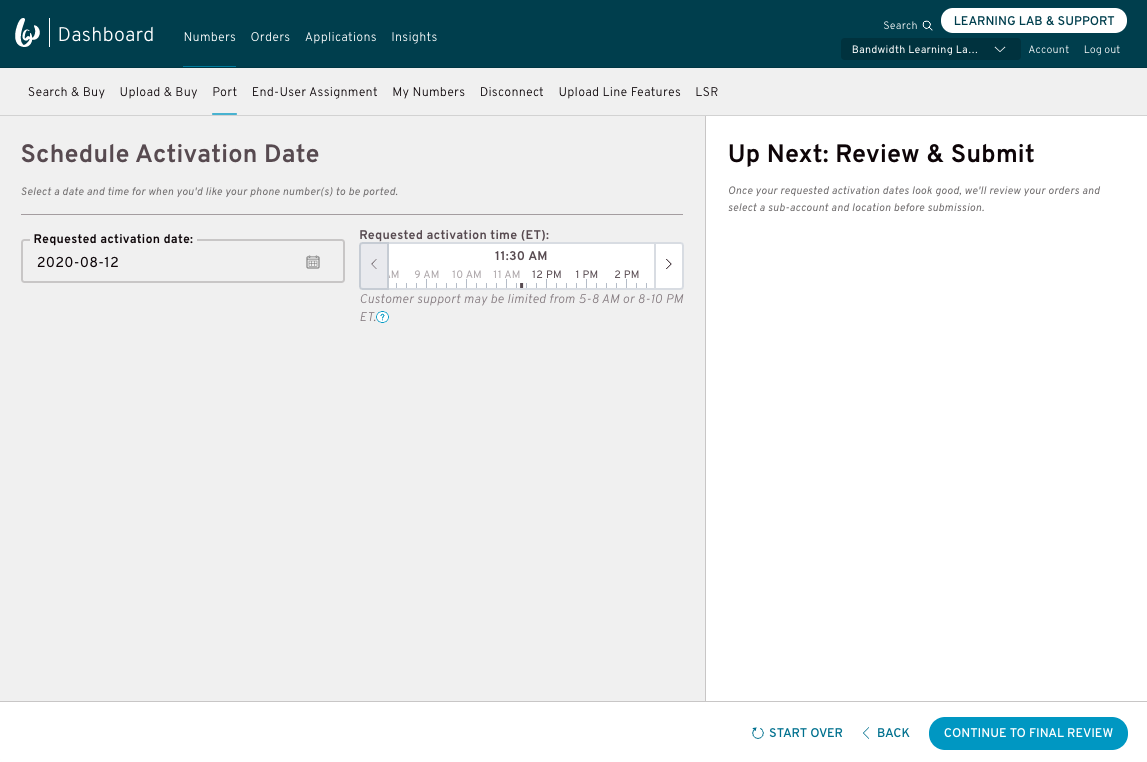 This feature also gives you the freedom to manually activate the port on the day of FOC. If you don't elect to manually activate, then the port will auto-activate at the time selected.
To activate the order on the day of FOC:
Log into the Bandwidth Dashboard.

Use the "Search for an order" tool to locate your Order by selecting "Port" as your Order Type.

On the "Order Details Page", click the 'Activate Numbers' icon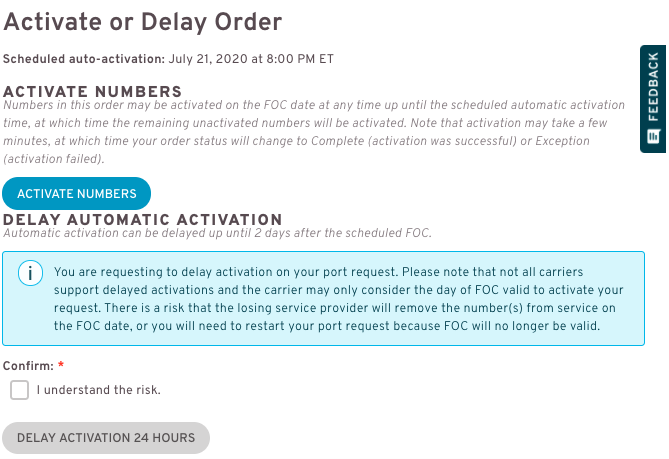 Note: To delay, you can mark the 'I understand the risk' and click 'Delay activation for 24 hours'
Once the numbers have completed the activation process, the order will show a completed status, and the phone numbers in the port request will show 'inservice'. We recommend you wait 10 to 15 minutes after the order completes to begin testing.
Looking for more information on port activation rules? Click here!
Was this article helpful?
2 out of 2 found this helpful