How to Subscribe to Email Notifications on Orders
Follow
This article references the 'New' interface in the Bandwidth Dashboard. Looking for the 'Classic' experience? Click here!
Stay up-to-date on the status of your port orders, backorders, and more!
Account notifications are a means to receive email notifications for all orders of a specific order type. Subscriptions may also be set on a per-order basis. For more information on this method, please read our article on How to Subscribe to Order Updates on a per-order basis.
To set your universal email notifications, perform the following steps: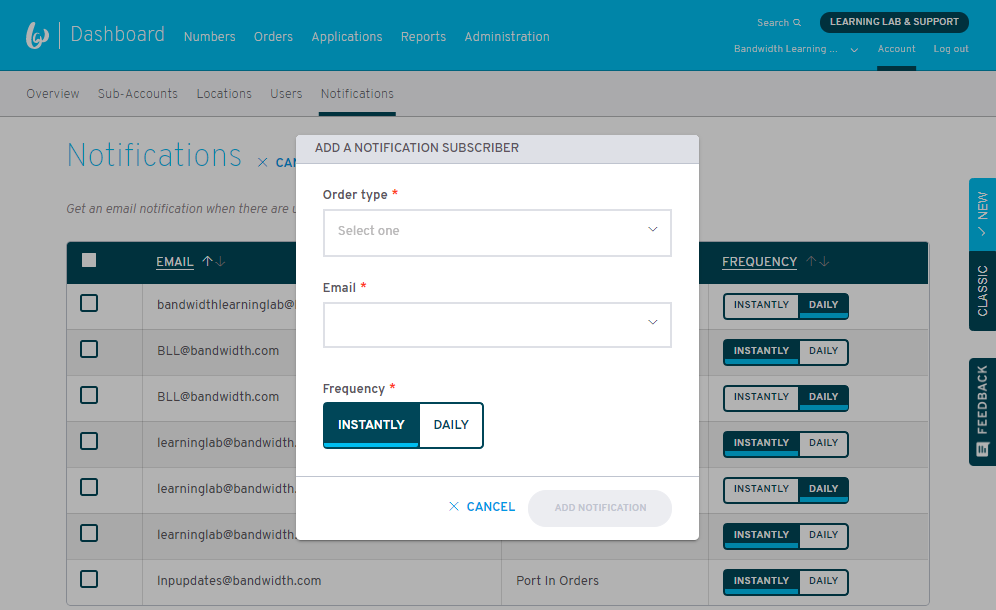 From the top navigation menu, click 'Account' and then 'Notifications'
Click 'Add'

Select the order type

Type the recipient's email address into the text box or choose a previously used one from the drop-down menu

Select the frequency with which you'd like to receive updates:

Instantly:

you'll receive an email within a few minutes of a change being made to your order

Daily:

you'll receive a report of your order activity once a day

Click 'Add Notification'
Was this article helpful?
0 out of 0 found this helpful