How to Submit Local Service Requests
Follow
Bandwidth customers who are also carriers can can request to port a telephone number away using their Bandwidth LSR Account.
Note: To submit LSRs, customers must log into an account that's enabled for LSR submission. Your LSR account may use different credentials than your standard Bandwidth Dashboard account. Once logged in may also see the "LSR - " prefix in front of your account name listed in the top right-hand corner of the page.
Supported browsers - Firefox, Chrome
If you do not have a login or need some help, please submit a ticket requesting access and we'll get you set up.
Step-by-Step Guide - How to Submit Local Service Requests
1. The first thing to do is log in to the Bandwidth Dashboard.
If you don't have a login or need some help, just submit a ticket via our support site and we'll get you set up.
2. Once you log in, navigate to 'Numbers' and click 'LSR'.
This will start your port-out request.
3. Fill out all the applicable fields
If you aren't able to do all of them, just focus on the ones that are required and marked with *.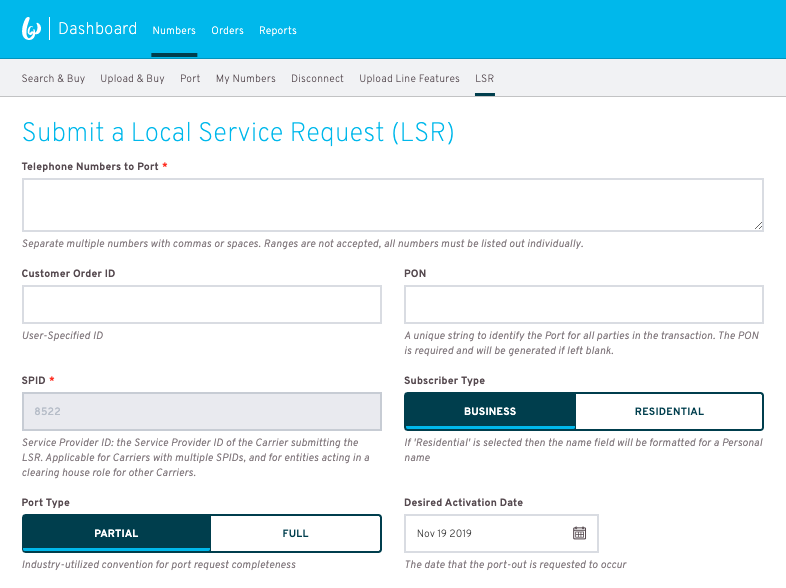 Telephone Numbers to Port: List all the phone numbers you'd like to port. Each number should be on a separate row with no dashes or spaces, and only the 10 digits of the number are needed, without the country code. (i.e. 5558675309).
PON – The Port Order Number or Purchase Order Number is given to you by the gaining carrier (your new carrier). This is NOT a telephone number.
SPID – The Service Profile Identifier is the alphanumeric, 4 digit ID of your gaining carrier.
Port type – Are you porting all the phone numbers from your Bandwidth account or just some of them?

Select "full" if all numbers on the account are porting.
Choose "partial" if you're only moving some.

Desired Activation Date - Specify when you'd like to have the numbers activated. In most cases, we need a minimum of 4 days, but some gaining carriers require more time. We'll always do them as close to your desired date as possible.
4. Complete the 'Customer Information' & 'Service Address' fields.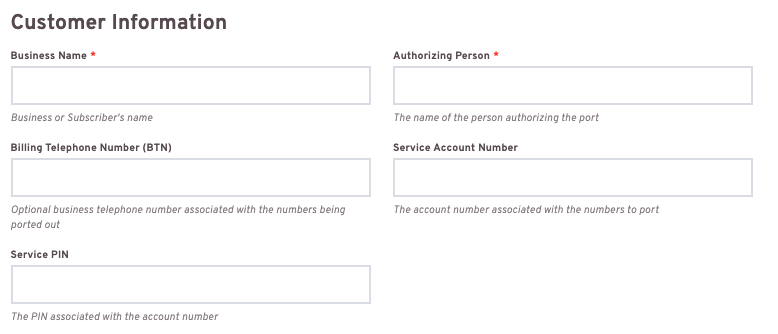 5. Just click Submit when you're ready.
You should see "Order Successful."
6. To view your order details, click the "view order" link.
You're Done! Read on to learn how to search for and view your other orders.
Search & View Orders
To search for another order, or return to this order later to view status, click 'Search' in the top menu and then select Orders.
Select 'LSR' as the order type, fill out any other criteria you desire (like PON, TN, etc.) and then click 'Search.'
Clicking on a search result will show you the LSR information and it's current status.
Want to automate your port-out workflows?
We've got you covered! Bandwidth's API makes it easy to port as many numbers as you want with the click of a button. Want to know more? Let's talk! Just open a support ticket and ask about automated port-out workflows.
Was this article helpful?
1 out of 1 found this helpful