How do I search and order phone numbers?
Follow
In this article, you'll learn how to order one or more phone numbers from the Bandwidth Dashboard. With augmented searching, a shopping cart, bulk ordering, and advanced filtering, you can order phone numbers faster than ever!
Augmented searching: Explore our inventory with predictive searching capabilities.
Shopping cart: Catalog your phone number selections, just like an online store.
Bulk ordering: Make orders spanning multiple search criteria.
Advanced filtering: Refine your search by area code (NPA), rater center, city, state/province, zip code, or Local Access and Transport Area (LATA).
Begin your order
Log into the Bandwidth Dashboard.
In the top navigation bar, click Numbers and select Buy Numbers.
Under Phone number type, choose Regular or Toll-free.
Note: Toll-free consecutive phone number search isn't currently supported.
Under Any preferences?, indicate whether you have any search preferences:
Select None if you don't have any preference.
Select Only show groups of consecutive numbers if you're looking for consecutive phone numbers.
Select Skip the search results; give me a certain quantity if you don't have a preference and are just looking for a specific amount of phone numbers. This option will automatically select the numbers based on the quantity you specify and take you directly to the Place & Purchase page.
Under Type to select your search criteria, enter the criteria you want to search the number by. You can search by area code (NPA), rate center, city, state/province, ZIP/postal code, or LATA.
Click Search.
Note: If none of the numbers meet your search criteria or you need more numbers than we have available, you may place a backorder.
Refine your search
You can group your search results or sort them in ascending (1 -> 2) or descending (2 -> 1) order.
If you choose to mark the Include Local Calling Area (LCA) option, it'll expand your search and provide you with local phone numbers. Local Calling Area is a geographic area defined by the exchange (NPA-NXX) and Local Access and Transport Area (LATA). Expanding your search to this area may help you find phone numbers nearby.
Note: LCA applies only to exchange (NPA-NXX), block (NPA-NXX-X), and rate center searches.
Area Code, also known as the Number Planning Area (NPA), is a three-digit number that identifies the telephone service region.
Rate Center is a geographical area used by a Local Exchange Carrier (LEC) to determine the boundaries for local calling, billing, and assigning phone numbers.
Rate Tier refers to applicable pricing tiers Bandwidth uses to categorize certain rate centers. Please refer to your contract for this matrix.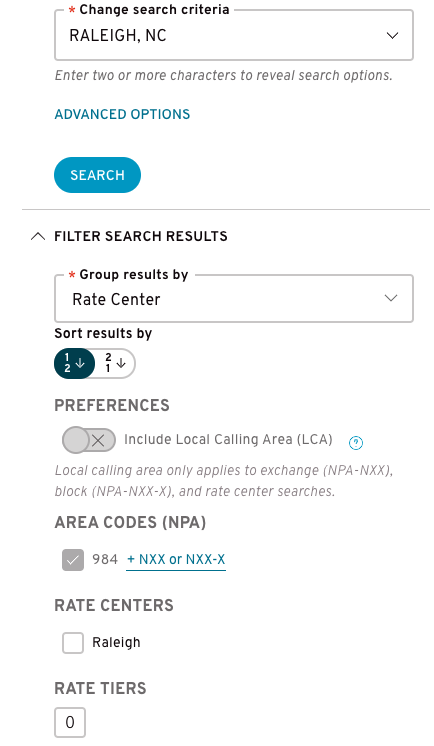 Select and order phone numbers
Under Available Consecutive Phone Numbers, you'll all the available numbers matching your search criteria. To select numbers, you can either click on each number individually or click on one number and drag your cursor to select multiple at once.
All selected numbers will be added to your cart. Click Continue to proceed to the checkout.
Note: Back orders cannot be placed for consecutive groups of numbers.
Once you're on the Place & Purchase page, choose your Sub-account and Location where you want your numbers to reside. You can also enter an optional Order description and Customer Order ID.
Click Purchase to complete your order.
Questions? Please open a ticket with your Bandwidth Support Team or hit us up at (855) 864-7776!
Was this article helpful?