How to Order Phone Numbers
Follow
In this article, you will learn how to order one or more phone numbers from the Bandwidth Dashboard. With augmented searching, a shopping cart, advanced filtering and the ability to span multiple search criteria in a single order we think you'll be faster than ever at ordering numbers.
Augmented searching

: Explore our inventory with predictive 'autocomplete' searching capabilities.

Shopping Cart:

You can catalog your phone number selections, just like an online store.

Bulk Ordering:

Orders can span multiple search criteria.

Advanced Filtering

: Refine your search by Rate Tier, rate center, area code, and Local Calling Area (LCA).




Once you have logged into your Bandwidth Dashboard account, click the 'Numbers' tab and click 'Search & Buy.' You will notice an option to import from a spreadsheet, do not worry about this option for this process.
PLACING AN ORDER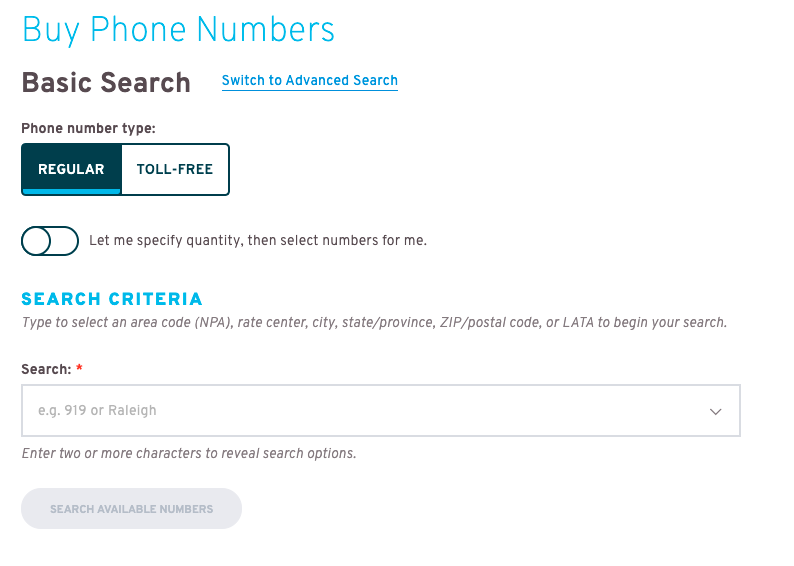 Now that you're on the 'Buy phone numbers page' you can choose from the following available options:
Determine a phone number type: Regular or Toll-Free

If you choose the 'Let me specify a quantity' option, this enables you to export up to 5,000 telephone numbers at a time.  Users may find this helpful when

ordering consecutive numbers

or if you don't have a preference and are just looking for a specific quantity of phone numbers.

Start typing your criteria, we will match your search across available parameters.

Click 'Search Available Numbers,' or just Hit 'Enter' on your keyboard.
You will be redirected to a page where you may either select the numbers you wish to purchase or use the several options on the left side of the page to refine your search for numbers.
REFINE YOUR SEARCH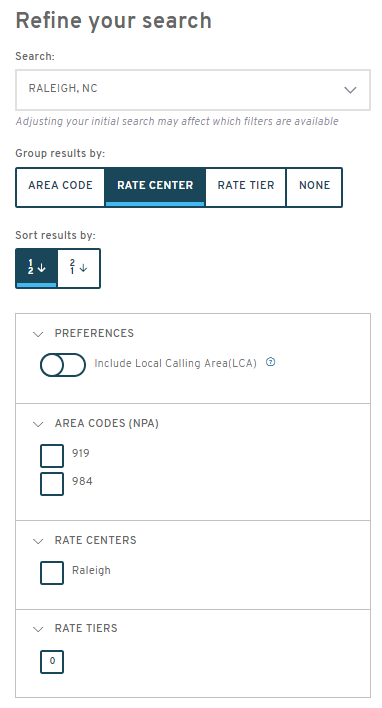 We present you with options to group your search results or sort them in ascending (1 > 2) or descending order (2 > 1).
If you choose to mark the

Include Local Calling Area

option, this will expand your search and will provide you with telephone numbers that are local.  Local Calling Area (LCA) is a geographic area defined by the exchange (NPA-NXX) and LATA. Expanding your search to this area may help you find phone numbers nearby.

Area Codes (NPA)

- Also known as Numbering Plan Area.  This is the three-digit number that identifies the telephone service region.

Rate Centers

- a geographical area used by a Local Exchange Carrier (LEC) to determine the boundaries for local calling, billing and assigning phone numbers.

Rate Tiers

- Bandwidth categorizes certain rate centers within applicable pricing tiers.  Please refer to your contract for this matrix.
SELECT AVAILABLE PHONE NUMBERS
Select a number or a group of numbers that you wish to purchase and it will be automatically added to your cart.
Click 'Continue' to proceed to checkout.

Select the Sub-account and Location you want your numbers to reside.

Click 'Purchase' to complete your order.
Congratulations you  have just purchased a new phone number!
Was this article helpful?
2 out of 2 found this helpful