How do I create a V2 Messaging API application?
Follow
If you're a V2 Messaging user, you can find everything you need to get started with sending text messages on the Applications page in the Bandwidth Dashboard:
Messaging URI: The endpoint for all of your Messaging APIs to send and receive messages. This path includes your company's unique user ID. It's the value that follows the users/

resource.

API Credentials:

Bandwidth APIs use BASIC HTTP Authentication. You'll need to have your user ID, token, and secret to make API calls.

Developer Docs:

Get dialed in with code samples, set-up guides, and more. Visit our API documentation for creating applications and sending messages.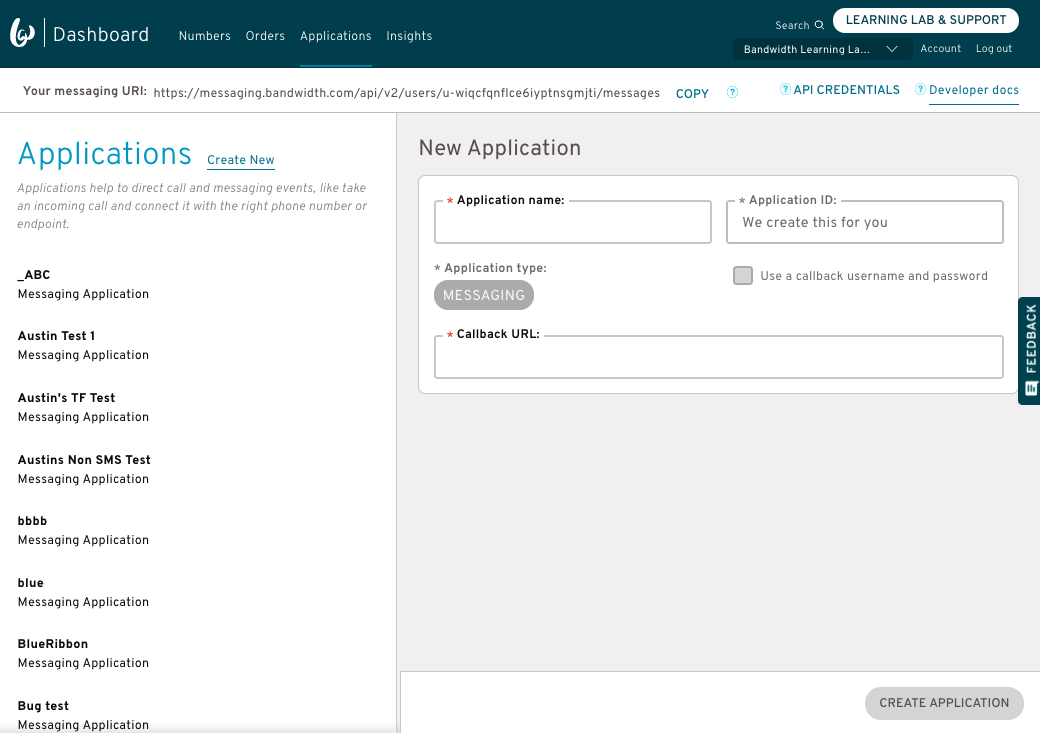 To create a messaging API application:
Log into the Bandwidth Dashboard.
From the top navigation menu, click Applications.
Enter an Application name.
Leave the Application ID field blank. We'll create this for you.
Set your Callback URL. Bandwidth will make an HTTP request to this URL whenever a messaging event takes place.
Click Create Application in the bottom right corner to save your changes.
Connect the application with a location. You can either create a new location

or associate an existing location with your application.

Note

: Associate your application with a location so that when a phone number receives a messaging event, the application will send the appropriate callback to the specified Callback URL.

Copy your Application ID. This is required to send outbound messages. You may also secure your callbacks with basic authentication.
Was this article helpful?
0 out of 2 found this helpful