How do I create Sub-accounts and Locations in the Bandwidth Dashboard?
Follow

Once you log into the Bandwidth Dashboard, the first thing you need to do is set up your initial Sub-account and Location. This article explains how to do it.
Note: Sub-accounts (Sites) and Locations (Sip Peers) aren't intended to grow in an unbounded manner. We don't recommend moving more than 50 Sub-accounts or 250 total Locations. Exceeding these thresholds may affect system responsiveness.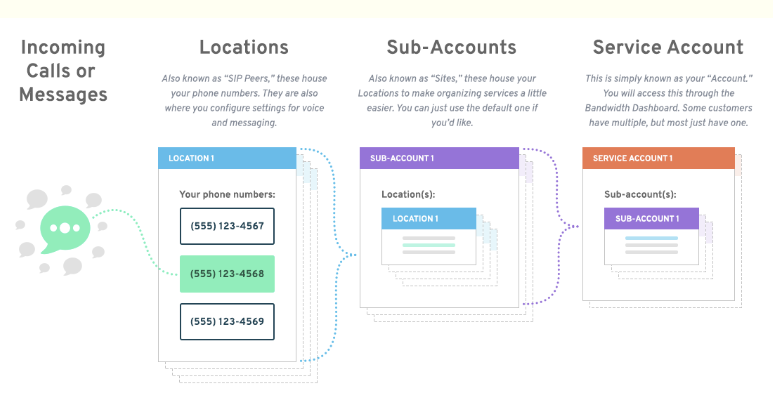 Sub-accounts
Sub-accounts, also known as Sites, contain names that appear in a list on the Bandwidth Dashboard's home page. You can think of them as a filing cabinet where you're free to organize them based on end user, Location, or other preferred method.
To add a Sub-account, perform the following steps:
In the top navigation bar, click Account, select Sub-accounts, and then click Add Sub-account.
Enter the required information and click Create Sub-account.

Locations
Locations house your routing IPs for Origination, Flat Rate Termination, and Messaging. You can think of them as file folders where your phone numbers reside. Although each Sub-account can have as many Locations as needed, only 10 origination IP addresses/DNS hosts may be provisioned for a single Location. Locations also allow provisioning for SMS hosts, if you're subscribed to this feature.
To add a Location, perform the following steps:
In the top navigation bar, click Account, select Locations, and then click Add Location.

Complete the following fields:

Sub-Account:

Select a Sub-account that you want to associate with this Location.

Location name:

Type the name of this Location. This field is required but can contain anything that makes sense to the Location provisioning.

Description:

An optional field where you can add a description of this Location.

Default location:

Turn this switch on if you'd like this to be the primary Location. This means that when you order and port, this Location will show up first after you select your Sub-account.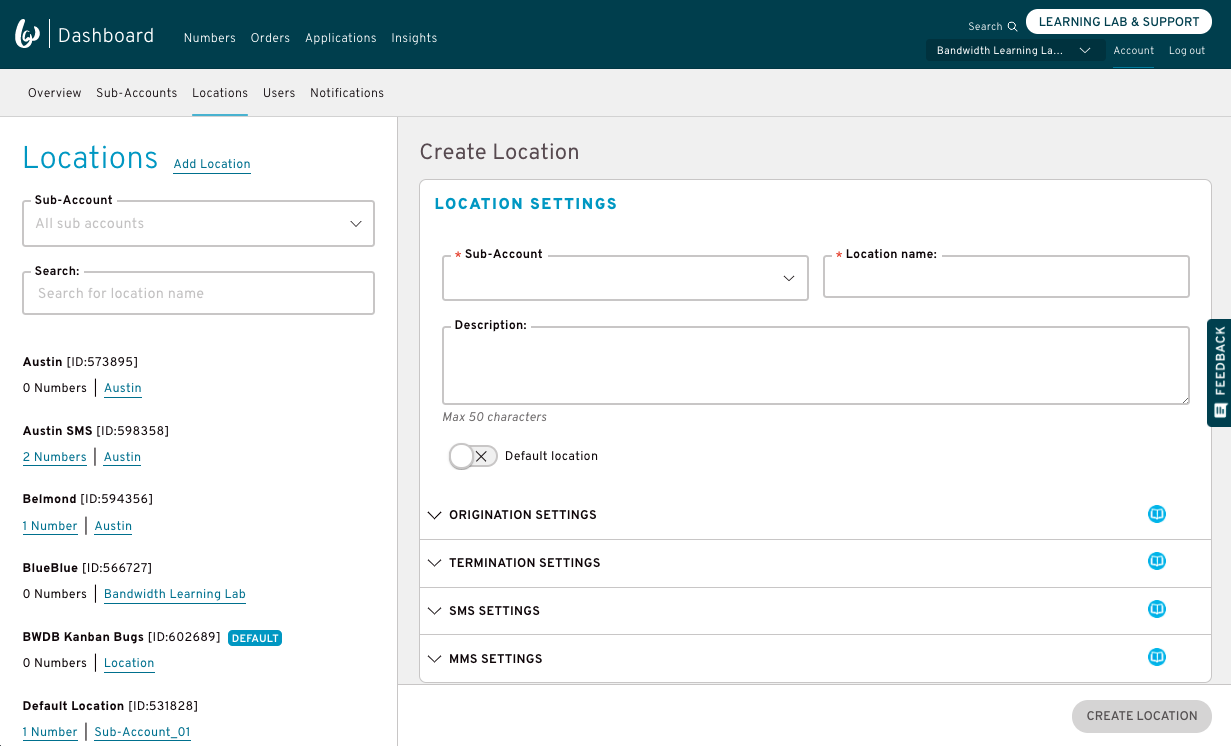 Origination settings
CNAM options
If you subscribe to the inbound CNAM per number feature, you can:
Switch the CNAM display (Caller ID) toggle on to make this a default setting for all phone numbers on the Location.
Switch the Enforced for all numbers toggle on to apply your CNAM display setting globally. If you choose to keep it off, you'll be able to update the CNAM display settings on each phone number.
Origination hosts
Select a traffic distribution mechanism. Here's what each option means:

None: Supports only one IP address.
Random: Supports up to 10 IPs. The system will signal to the IPs in a random order, similar to round-robin.
Sequential Failover: Supports up to 10 IPs. Traffic will failover on the IPs in the order in which they're entered

Enter the endpoint IP address or DNS host in the Voice IP addresses / DNS hosts field. Click +Add IP Address to add a new line.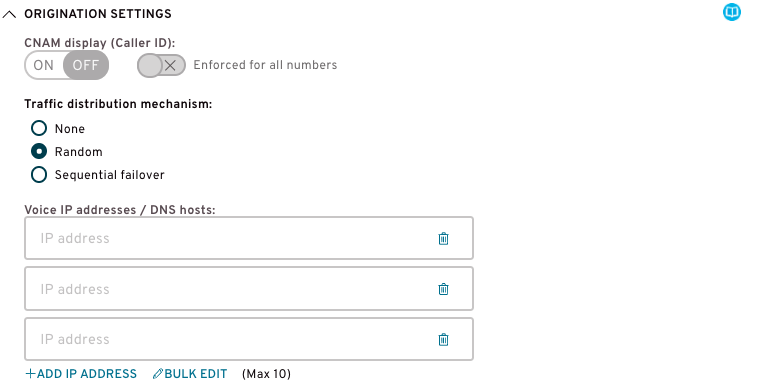 Termination settings
If you subscribe to our Unified Communications (UC) product, enter your IPs for routing outbound calls in the Termination hosts field. Otherwise, your whitelist is housed in a separate database at Bandwidth. Please open a ticket with your Bandwidth Support Team and we'll be happy to whitelist additional IPs for Termination.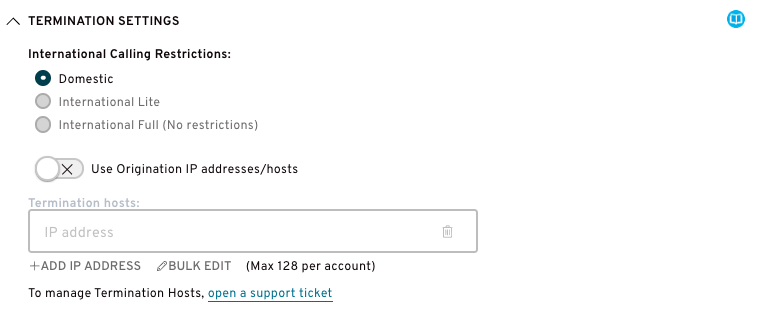 SMS and MMS settings
Please see our steps for enabling SMPP SMS and MM4 Messaging and HTTP SMS and MMS Messaging.
Now that you've set up your Sub-account and added your first Location, we recommend that you order a phone number to ensure that routing is working as intended.
Questions? Please open a ticket with your Bandwidth Support Team or hit us up at (855) 864-7776!
Was this article helpful?
4 out of 4 found this helpful