How do I manage Sub-accounts and Locations in the Bandwidth Dashboard?
Follow

Once you log into the Bandwidth Dashboard, the first thing you need to do is set up your initial Sub-account and Location. This article explains how to do it.
Creating a Sub-account
Sub-accounts help organize your phone number inventory to make grouping services a little easier. If you think of your account as a filing cabinet, these are the drawers. You can organize them based on the customer, end user, geographical location, or another method. Many users choose to just keep a single Sub-account, while others create two to represent Development and Production environments.
To create a Sub-account:
In the top navigation bar, click Account and select Sub-Accounts.
Click Add Sub-account.
Enter the required information and click Create Sub-Account.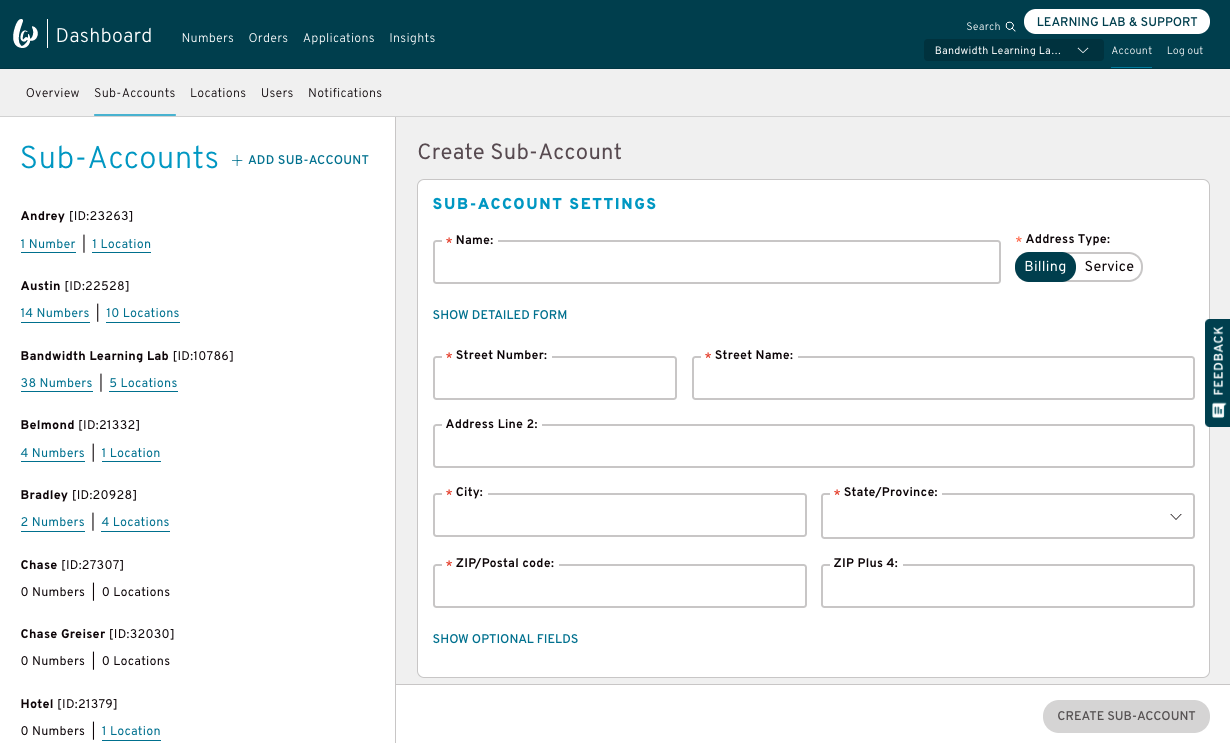 Deleting a Sub-account
In the top navigation bar, click

Account

and select

Sub-Accounts

.

Select the Sub-account you want to delete on the left side of the page.

Remove all Locations from the Sub-account.

Click

Delete Sub-Account

.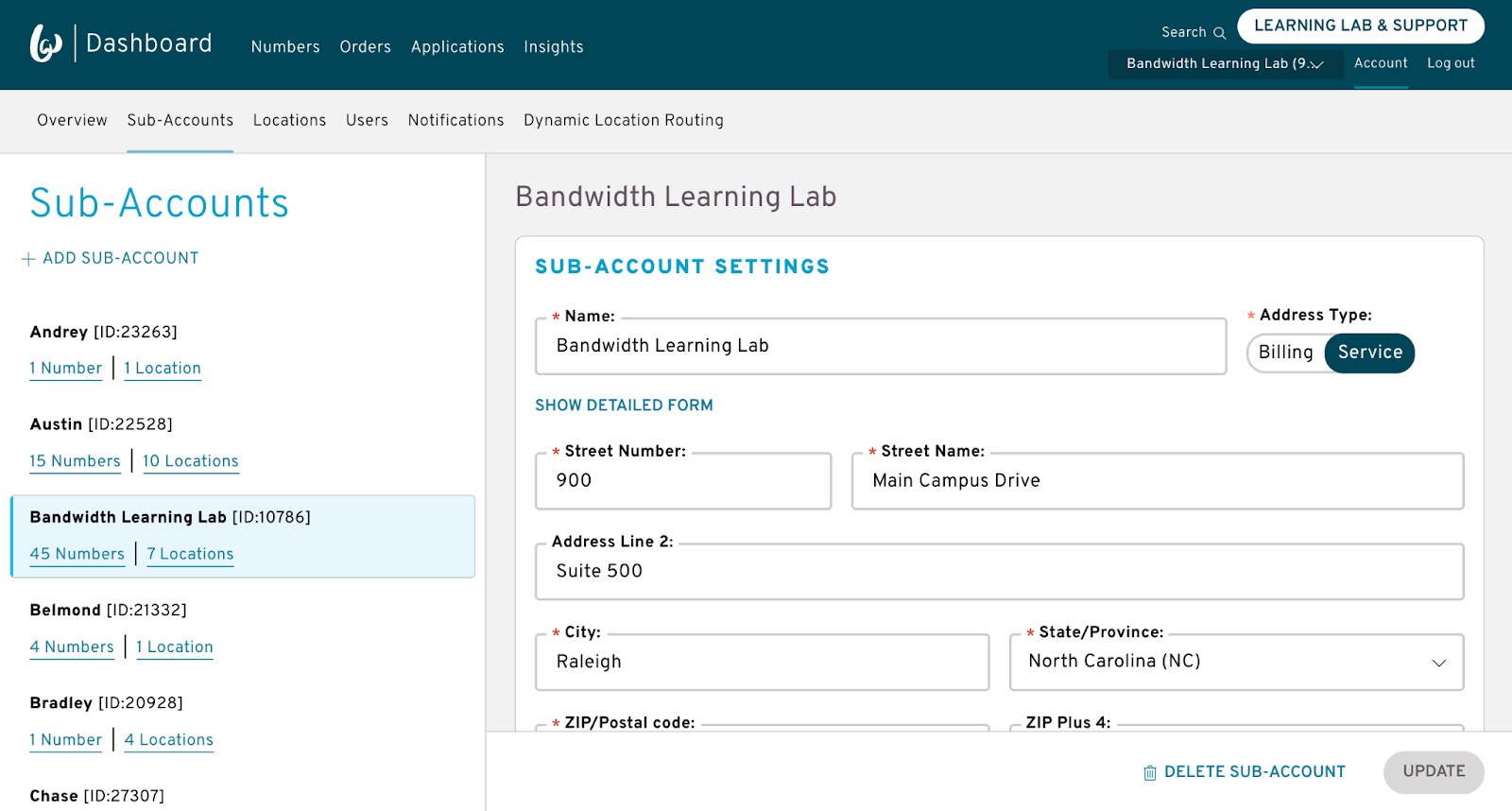 Creating a Location
Locations help you organize your phone number inventory and configure your IP addresses for Voice and Messaging. When a number is added to a Location, it inherits the settings and properties of that Location. You must have both a Sub-account and a Location to start ordering phone numbers.
To add a Location:
In the top navigation bar, click Account and select Locations.
Click Add Location.

Complete the following fields:




Name:

Enter the name of this Location. This field is required but can contain anything that makes sense to the Location provisioning.

Description:

An optional field where you can add a description of this Location.

Sub-Account:

Select a Sub-account that you want to associate with this Location.

Default location:

Turn this switch on if you'd like this to be the primary Location. This means that when you order or port a number, this Location will show up first after you select your Sub-account.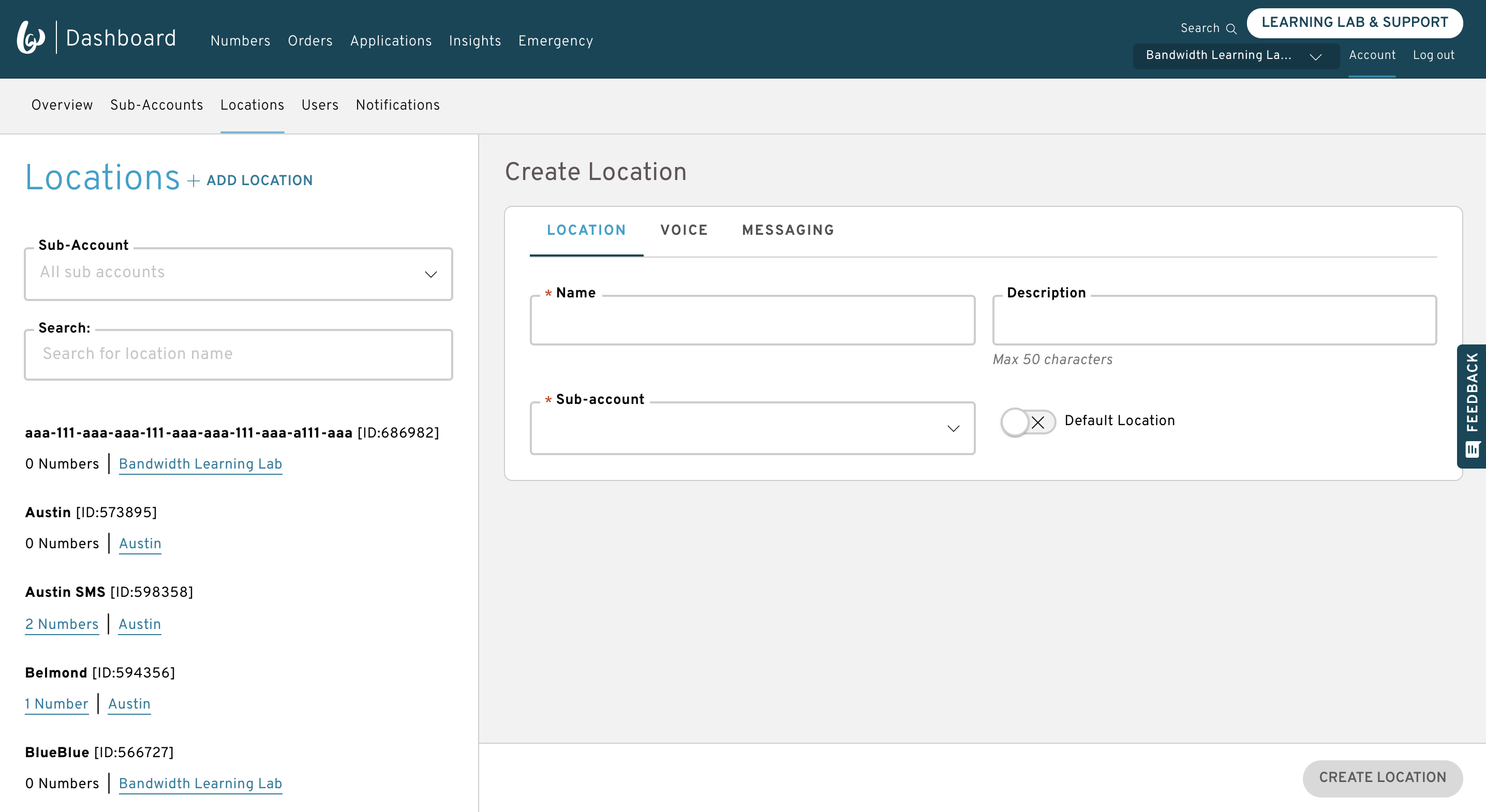 Deleting a Location
In the top navigation bar, click

Account

and select

Locations

.

In the

Sub-Account

field, select the Sub-account associated with the Location.

Select the Location on the left side of the page (you can use the

Search

field to narrow down the list).

Remove all phone numbers from the Location. You can either

move them to a different Location

or

disconnect them

.

Click

Delete

.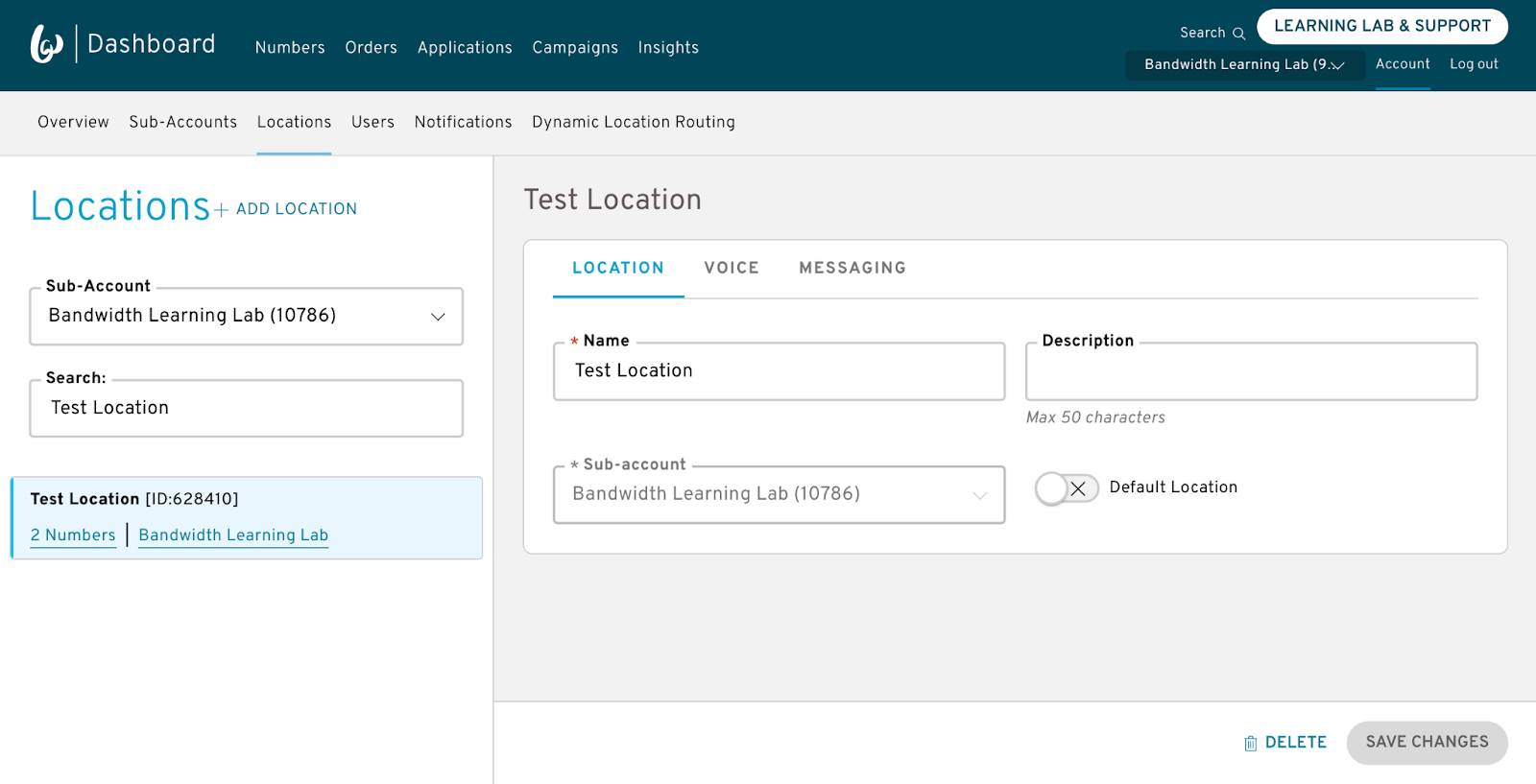 Managing voice settings
To configure your Origination, Termination, and STIR/SHAKEN settings, click Voice.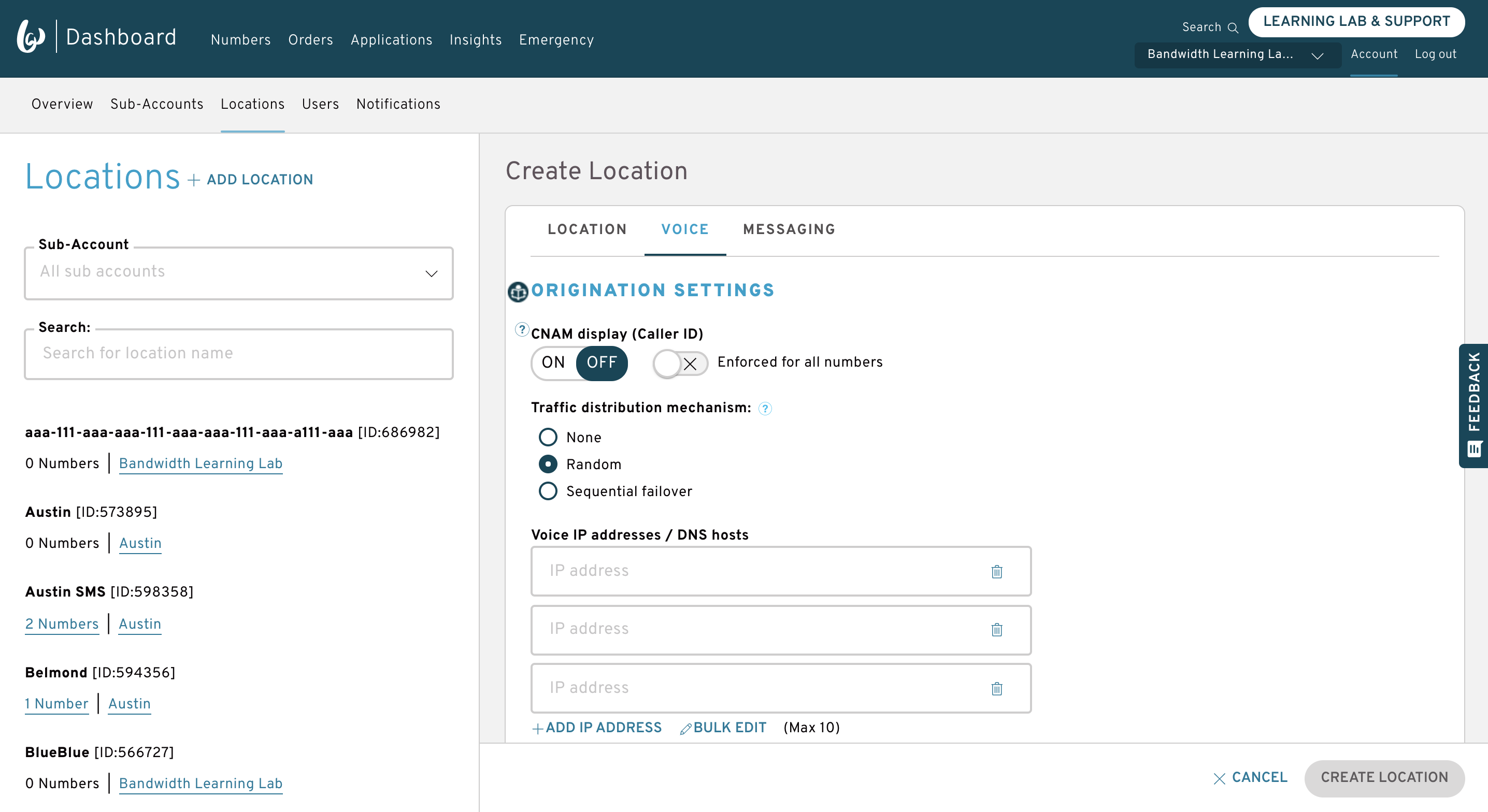 Origination settings
CNAM options
If you subscribe to the inbound CNAM per number feature, you can:
Switch the CNAM display (Caller ID) toggle on to make this a default setting for all phone numbers on the Location.
Switch the Enforced for all numbers toggle on to apply your CNAM display setting globally. If you choose to keep it off, you'll be able to update the CNAM display settings on each phone number.
Origination hosts
Select a traffic distribution mechanism. Here's what each option means:

None: Supports only one IP address.
Random: Supports up to 10 IPs. The system will signal to the IPs in a random order, similar to a round-robin.
Sequential Failover: Supports up to 10 IPs. Traffic will failover on the IPs in the order in which they're entered

Enter the endpoint IP address or DNS host in the Voice IP addresses / DNS hosts field. Click +Add IP Address to add a new line.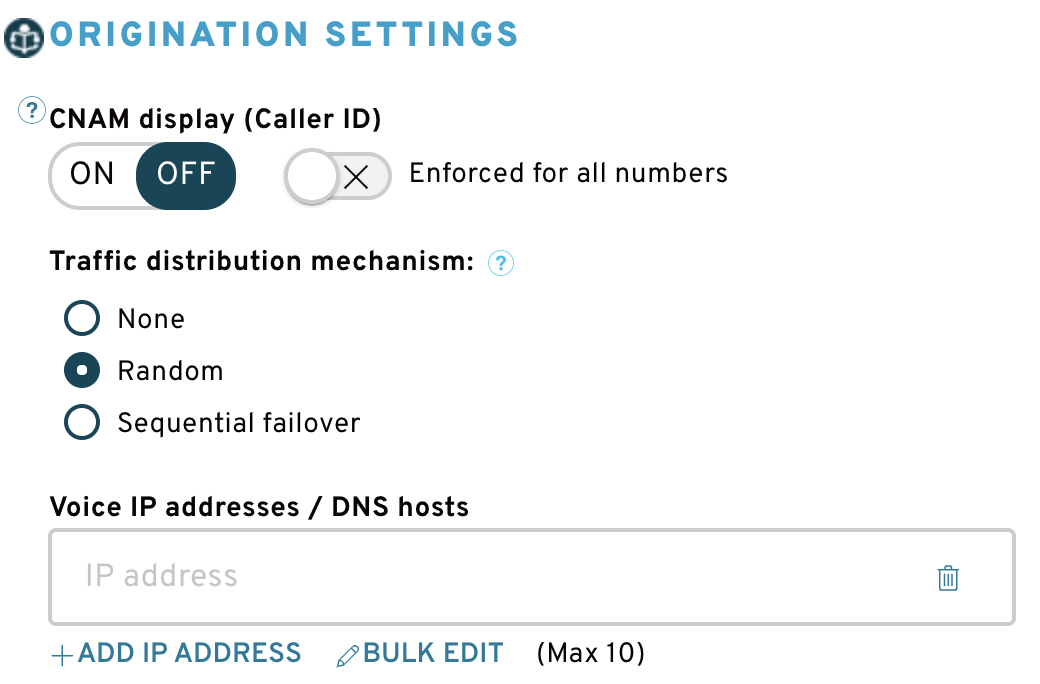 STIR/SHAKEN settings
For information on how to configure STIR/SHAKEN settings, see STIR/SHAKEN Inbound Verification and STIR/SHAKEN Transit Identity Header Service.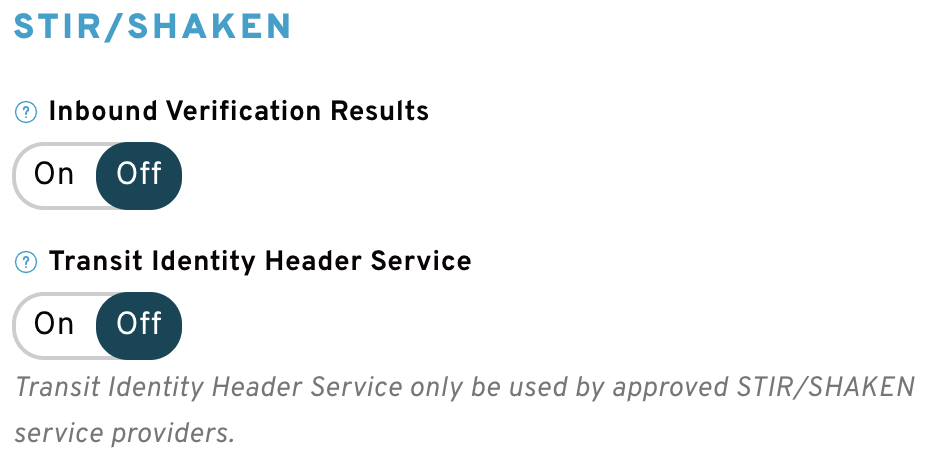 Termination settings
If you subscribe to our Unified Communications (UC) product, enter your IPs for routing outbound calls in the Termination hosts field. Otherwise, your whitelist is housed in a separate database at Bandwidth. Please open a ticket with your Bandwidth Support Team and we'll be happy to whitelist additional IPs for Termination.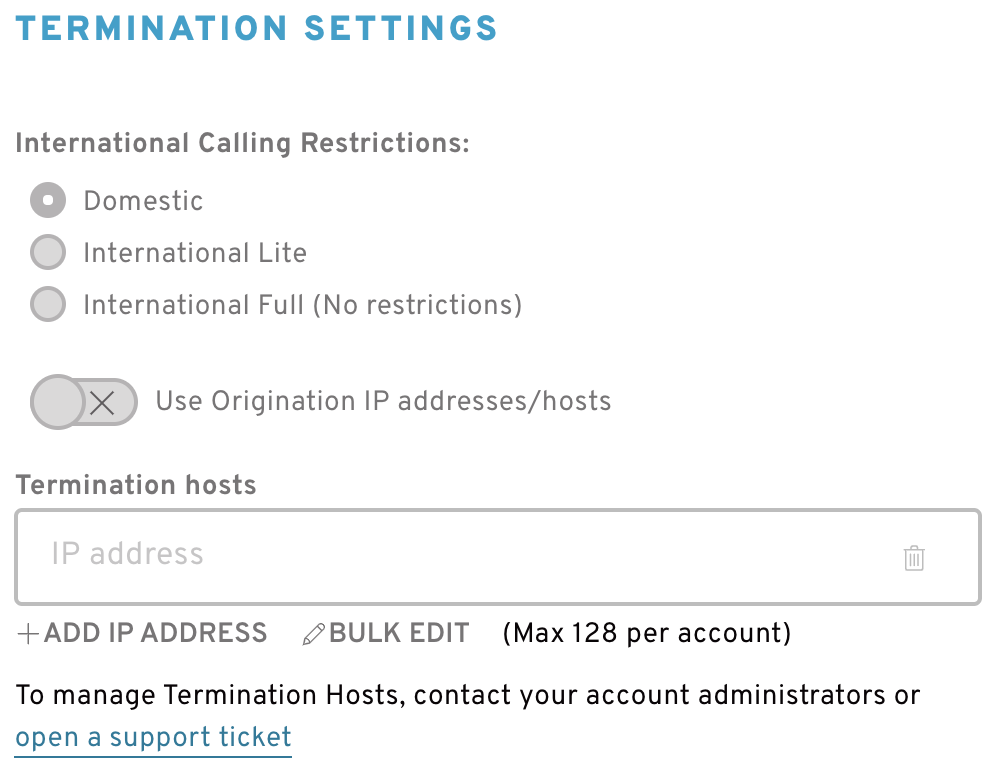 Managing messaging settings
To configure your SMS and MMS settings, click Messaging. For more information, see SMPP SMS and MM4 Messaging and HTTP SMS and MMS Messaging APIs.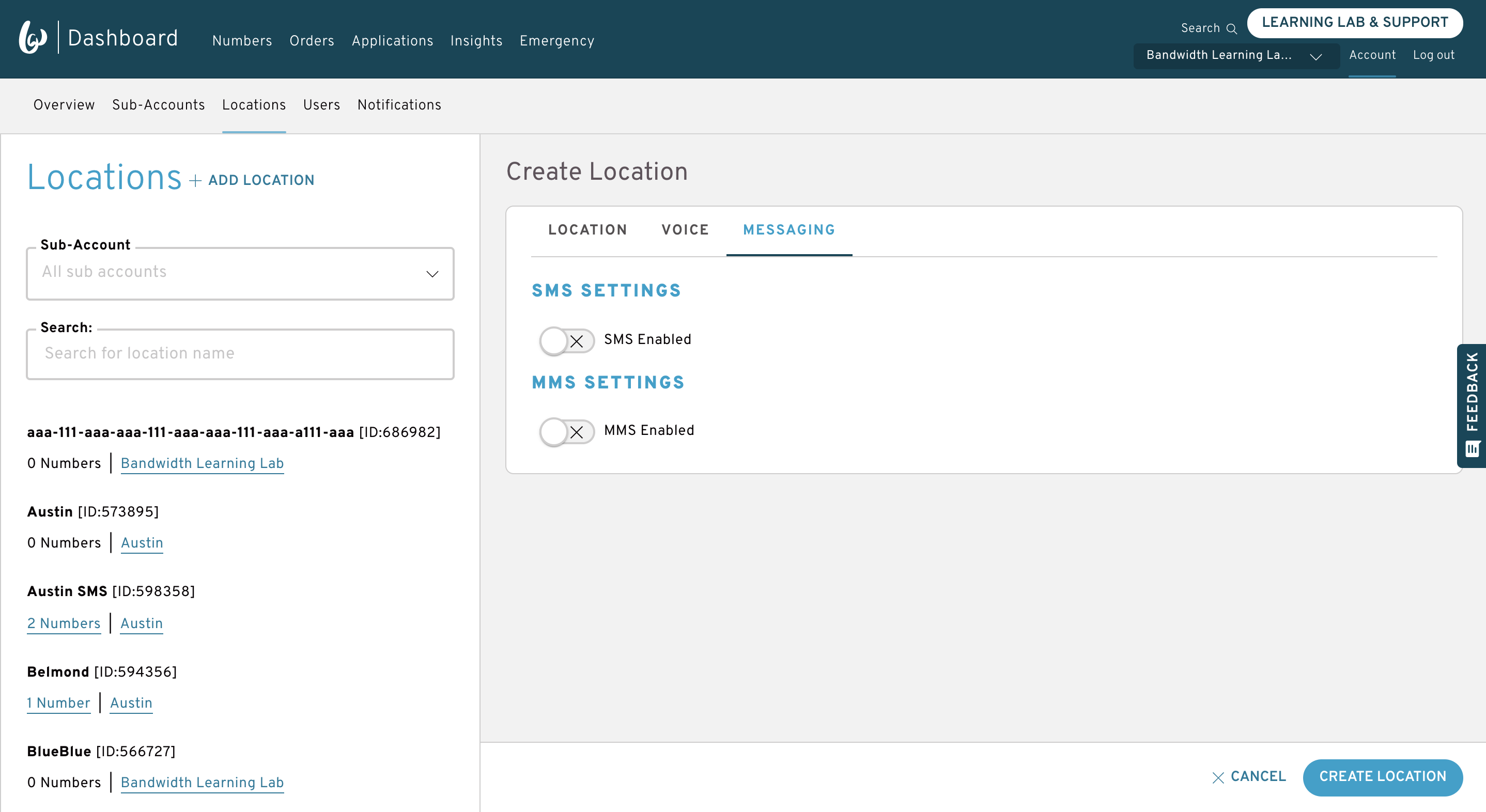 Next steps
Now that you've set up your Sub-account and added your first Location, we recommend that you order a phone number to ensure that routing is working as intended.
Questions? Please open a ticket with your Bandwidth Support Team or hit us up at (855) 864-7776!
Was this article helpful?