Classic: How Do I Setup Hosted Messaging and Text Enable External Phone Numbers?
Follow
This article references the 'Classic' interface in the Bandwidth Dashboard. Looking for the 'New' experience? Click here!
Hosted Messaging is a service that allows Bandwidth customers to enable non-Bandwidth owned/operated phone numbers for messaging. This product is designed to allow customers to send and receive SMS/MMS messages using the Bandwidth platform while leaving the voice service in place with the current carrier/service provider. More information can be found here. 
After working with your sales representative to add Hosted Messaging to your account, a Bandwidth Implementation Specialist will enable your account during onboarding.
TO USE THE SERVICE, YOU WILL NEED TO FIRST ENABLE AT LEAST ONE LOCATION FOR MESSAGING.
Please see the messaging setup guides for instructions if you have not already done so.
IN ORDER TO ADD PHONE NUMBERS FOR HOSTED MESSAGING, PERFORM THE FOLLOWING STEPS:
On the top navigation menu of the Bandwidth Dashboard, click 'Numbers' and then 'External numbers'.
From this page, users may copy/paste phone numbers into the 'List phone numbers' text box or use the provided template CSV for upload (up to 5,000 numbers at a time).
Assign the phone numbers to a Sub-Account and Location, along with an optional customer order ID.
Click 'Add External Numbers' to complete.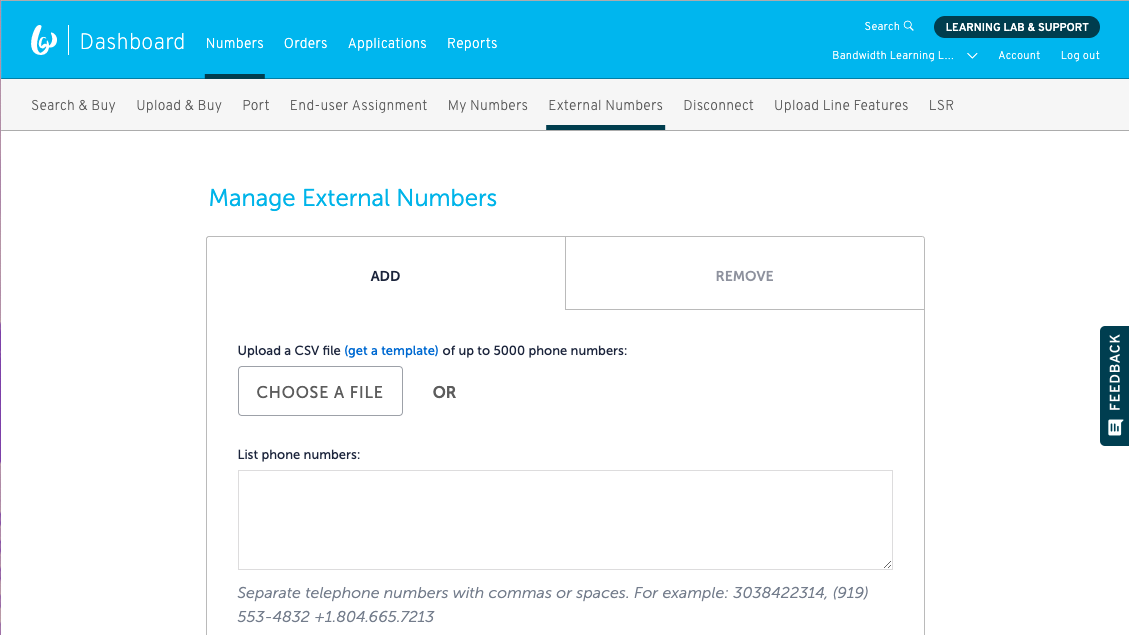 IN ORDER TO REMOVE PHONE NUMBERS:
On the top navigation menu, click 'Numbers' and then 'External numbers'.
From the 'Manage External Numbers' page, select 'Remove' and perform the aforementioned steps.
Was this article helpful?
0 out of 1 found this helpful