How do I add or remove phone numbers on a port order?
Follow
Note: This is the process for porting Tier 0 phone numbers into our network. Off-net and internal port orders should follow the "cancel/resubmit" workflow. 
1. You'll notice that internal orders have the greyed out button.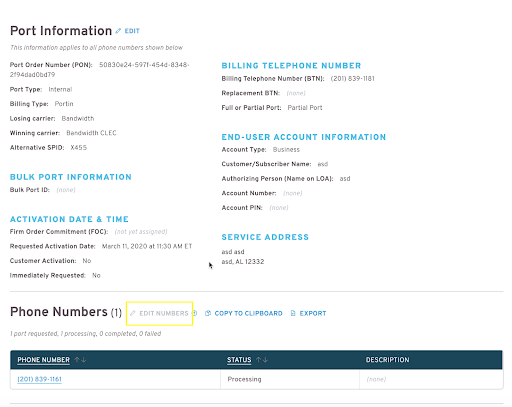 2. Once an eligible on-net order has been identified, scroll down to the phone number list and click Edit Numbers.
3. You'll see two text boxes with the add and remove numbers functionality. You can add or remove numbers in the same format as the Check Portability box:
4. Bandwidth will perform some basic checks to confirm the eligibility of the number(s) that are being added or removed. This will help confirm that no duplicate numbers are added, as well as ensure that carriers remain the same and port types don't interfere with each other. More information on the types of rejections can be found in our best practices support article.
5. Once the supplement (SUPP) has been received, you'll see a page with your number(s) added or removed.
6. It's important to remember that adding and removing telephone numbers from port orders sends another SUPP out to the carrier for approval and should be subject to all the best practices for each supplement type.
If you got questions, please open a ticket with your Bandwidth Support Team or hit us up at (855) 864-7776! 
Was this article helpful?
1 out of 1 found this helpful