How do I add or remove a port-out passcode on a phone number?
Follow
Port-out passcodes add an extra level of security to your on-net phone numbers by helping prevent unauthorized ports. You can manage passcodes on behalf of your end users with little to no support needed. As the underlying provider, Bandwidth reserves the right to override any passcode rejection if you don't follow the industry port-out guidelines.
This article explains how you can add or remove a passcode on a number in the Bandwidth Dashboard. Looking to add or remove passcodes on multiple numbers at once? Check out how to bulk add or remove port-out passcodes on phone numbers.
Note: If you need to determine which of your numbers have port-out passcodes, please follow these instructions.
To add or remove the passcode on a phone number:
Log into the Bandwidth Dashboard.

Navigate to the

Search Telephone Numbers

section on the right side of the home page.

Enter the phone number and click Search.
Click the blue phone number link in the

Search Results

section.

This will take you to the

Phone Number Details

page.
Once you're on the

Phone Number Details

page, please confirm that the phone number is Tier 0. If you attempt to add a passcode on an ineligible number (any number that's not Tier 0), you'll get the following error:

Only ON-NET TNs can have Port-Out Passcode

.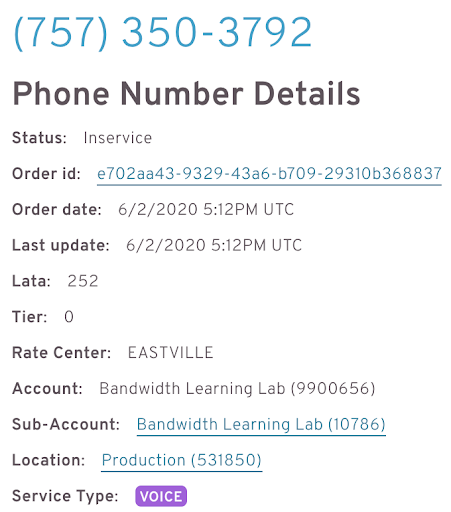 Scroll down to the Port-Out Passcode section.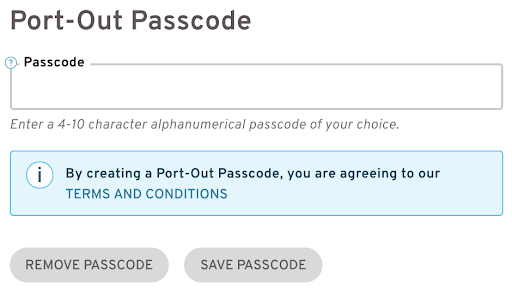 Enter a 4-10 character alphanumeric passcode and click Save Passcode

.

To remove an existing passcode, click Remove Passcode

.
Questions? Please open a ticket with your Bandwidth Support Team or hit us up at (855) 864-7776!
Was this article helpful?