Troubleshooting Bandwidth Dashboard login issues as an Account Admin
Follow
As an Account Admin, you can help a Basic User at your organization resolve any of the following issues that may be preventing them from logging into the Bandwidth Dashboard:

They've been locked out after 6 consecutive failed login attempts

They don't have the necessary access methods

Their username is incorrect

Their password is incorrect or has expired
Note: If you're not able to log into the Bandwidth Dashboard as an Account Admin, please open a ticket with your Bandwidth Support Team or hit us up at (855) 864-7776.
To access the user's account settings:
Log into the Bandwidth Dashboard.

In the top navigation bar, select

Account and click

Users

.

Select the user's account from the list on the left.
Unlock the user
If the user has unsuccessfully tried to log into the Bandwidth Dashboard 6 times in a row, they'll be locked out for security reasons. To unlock them, simply set the toggle to Unlocked.

Check their access methods
Since API users can't access the Bandwidth Dashboard, please check whether that's the case with this user. You can find how they're currently set to interact with the Bandwidth Dashboard and update their access methods if needed under Select User Access Methods:
Allow user to login to the Bandwidth Dashboard: This user is allowed to log into the Bandwidth Dashboard and is required to reset their password every 90 days.
Allow user credentials to authenticate API: This user is allowed to use their credentials specifically to authenticate API calls. Since API users are expected to do automated processes, they aren't required to reset their password but also cannot use it to log into the Bandwidth Dashboard. To address this, m

any developers choose to have two sets of credentials: one to access the Bandwidth Dashboard and another

API-only

to validate API calls.
Check their username
Confirm that the user is logging in with the correct username. You can find it under User Information.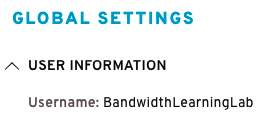 Check if they have verified their email
If none of the above has resolved the user's issue, please have them reset their password. In order for them to do that, their email address has to be verified in the Bandwidth Dashboard. If it's unverified, you can send them the verification link by clicking Send a Verification Email.

Send them the password reset link
If the user has verified their email address, they can reset their password themselves. However, you can also send them the password reset email by clicking Send Reset Link.

Was this article helpful?