How to register a campaign for 10DLC
Follow
Note: This information is subject to change based on the requirements of The Campaign Registry.
This article explains how to register your campaign(s) for 10DLC in the Bandwidth Dashboard. To learn more about campaigns, see Registering brands and campaigns for 10DLC. For an overview of 10DLC, check out our 10DLC Overview.
Registering a campaign
Log into the Bandwidth Dashboard and select Campaigns in the top navigation bar.
Click Campaigns in the sub-navigation bar. You'll see a list of campaigns that have been previously registered on your account.
Click + New Campaign or Create a New Campaign to begin the campaign registration process.
Select the brand you want to associate with your campaign.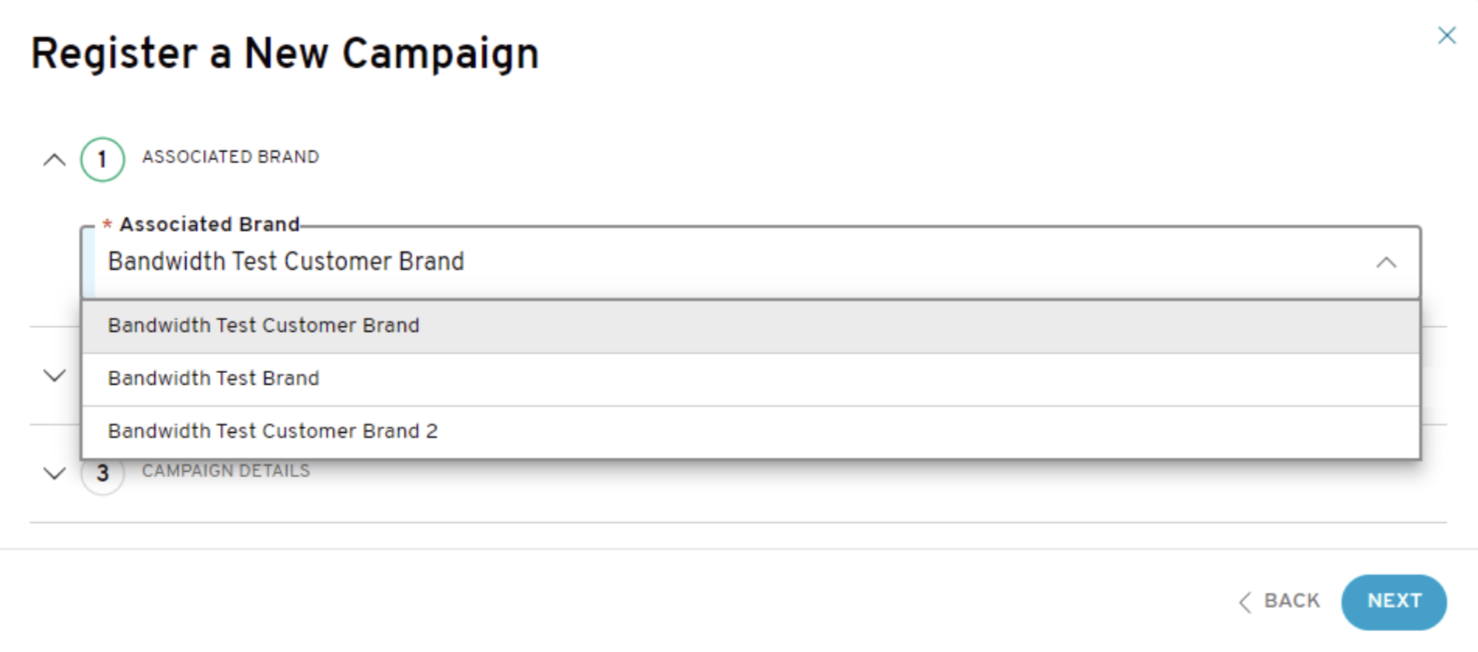 Select your campaign use case and click Next.
If you have a standard use case, select an option from the Standard Campaign Type column. You only need to select one to proceed to the next section.
If you have a special use case, select an option from the Special Campaign Type column. Please note that these use cases need to go through the Mobile Network Operator (MNO) manual approval processes and may not be approved for some time after registering.
Note: Bandwidth will no longer be supporting the Sole Proprietor use case for those customers registering through us as of 11/1.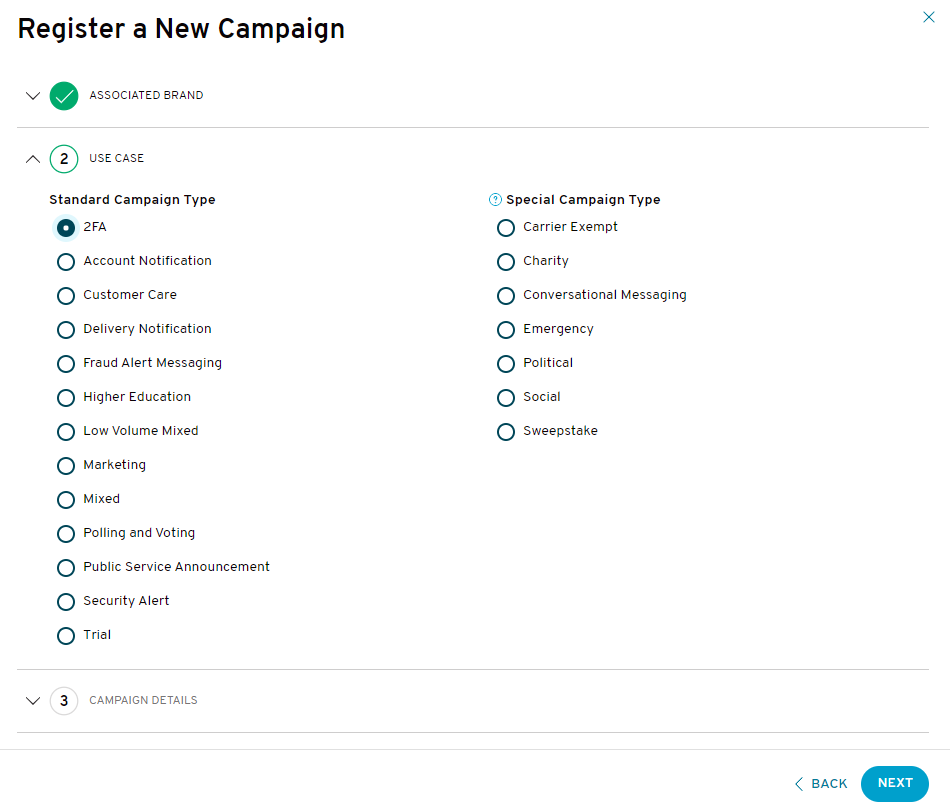 Note: If you select Low Volume Mixed or Mixed, you'll see additional use cases displayed below. You must select two or more to continue to the next step.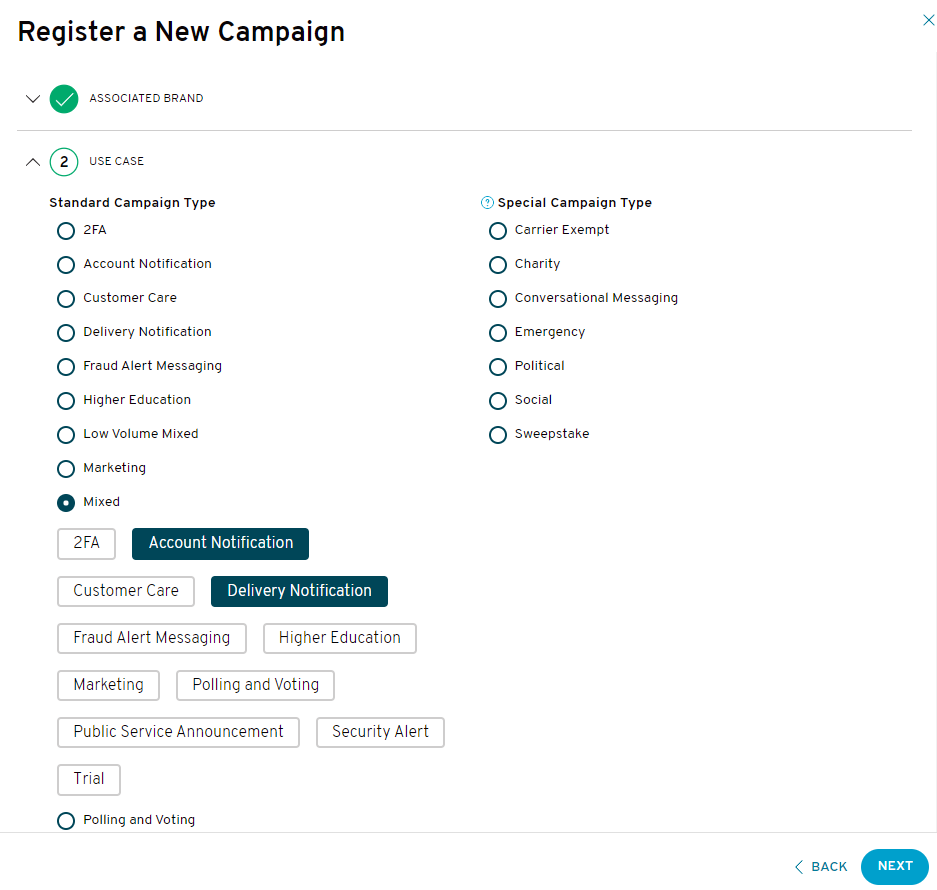 Enter your campaign details and click Create.
Note: Please don't include emojis when entering sample messages, as this can cause an error.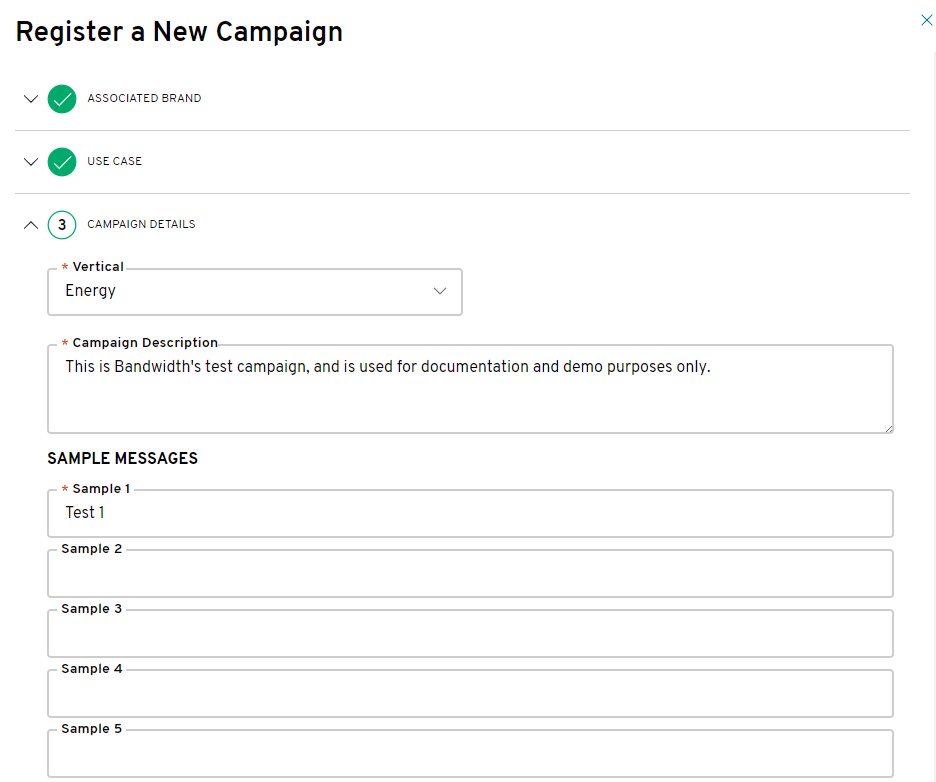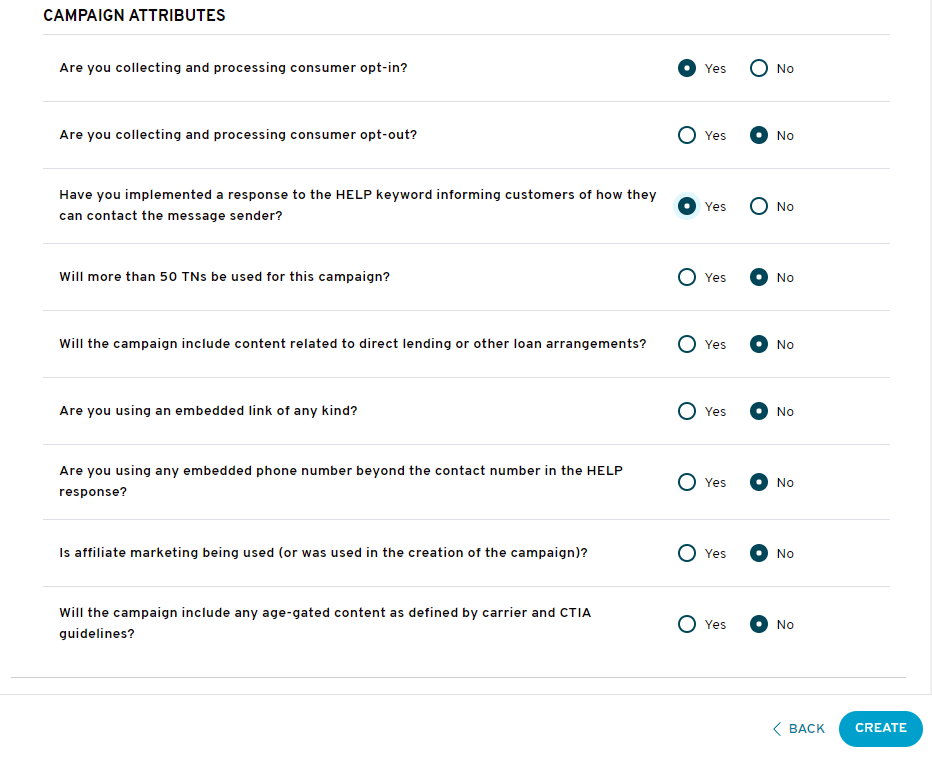 Once you've successfully registered your campaign, you'll be brought back to the My Campaigns page.
Campaign and MNO statuses
You can view the statuses of your campaigns on the My Campaigns page.
Campaign status
The campaign status can be either Active or Expired. Immediately after the campaign is registered, its status will be set to Active. It'll become Expired only if you deactivate the campaign yourself or if the auto-renewal is turned off for the campaign.
MNO status
The MNO (carrier) status can be either Review, Approved, Rejected, or Suspended. For standard use cases, all MNO statuses will be set to Approved immediately after registering a campaign. For special use cases, all MNO statuses will be set to Review and will be subject to a manual review process. An MNO can suspend and/or unsuspend a campaign at any time at their discretion.
Note: Campaign status and MNO status are entirely independent of each other. A campaign can have an Active status but still be in Review, Rejected, or Suspended status by one or more MNOs. If the campaign has an Expired status or if any of the MNO statuses aren't set to Approved, then the campaign can't be associated with a TN in our system. If a campaign has already been associated with TN(s) and then becomes Expired or Suspended, it'll be removed from those TN(s).
Error messages
We have some asynchronous processing that happens behind the scenes after registering a campaign. In the event of a processing delay, the campaign in question will have an error message displayed next to it on the My Campaigns page. Processing should be complete within one hour. If your campaign is experiencing a processing delay, it won't be eligible to be assigned to a TN until the delay is resolved.
Campaign details
While on the My Campaigns page, you can click on a campaign ID to view the Carrier Term Preview and the Campaign Details sections.
Editing a campaign
To edit your campaign, click the Edit Campaign button above the Carrier Term Preview section. You can only edit the Automatically renew campaign and the Sample Messages sections.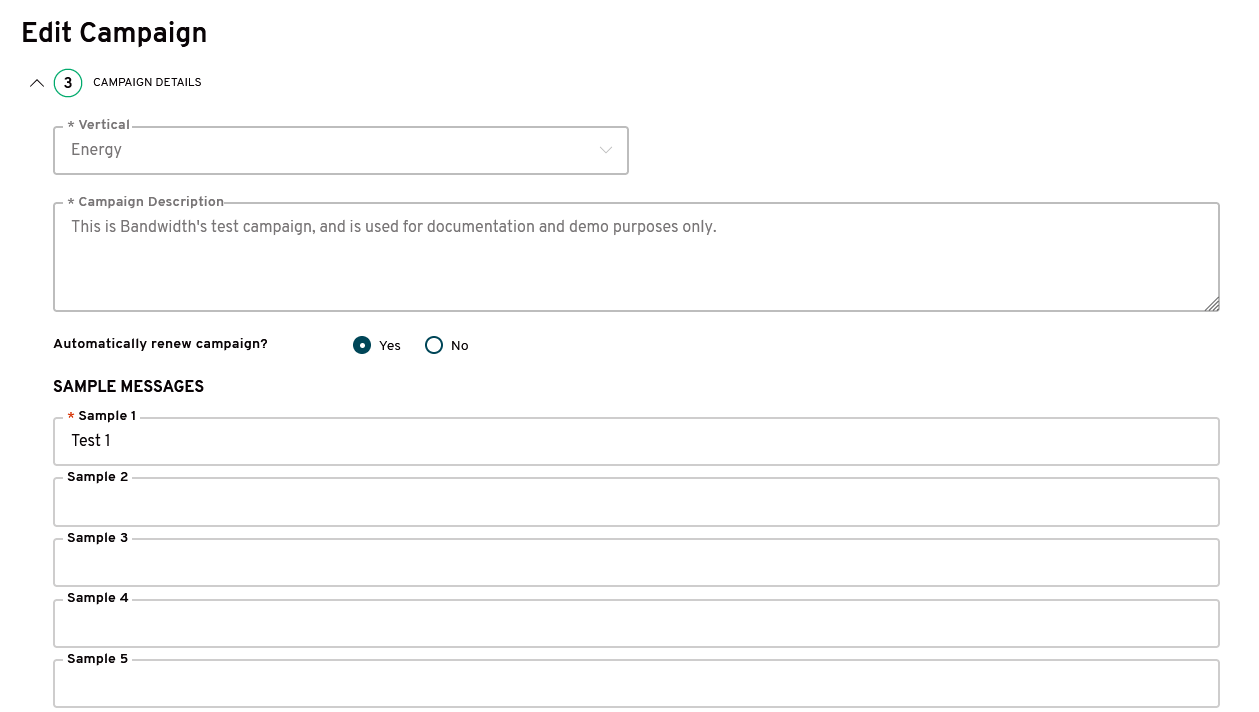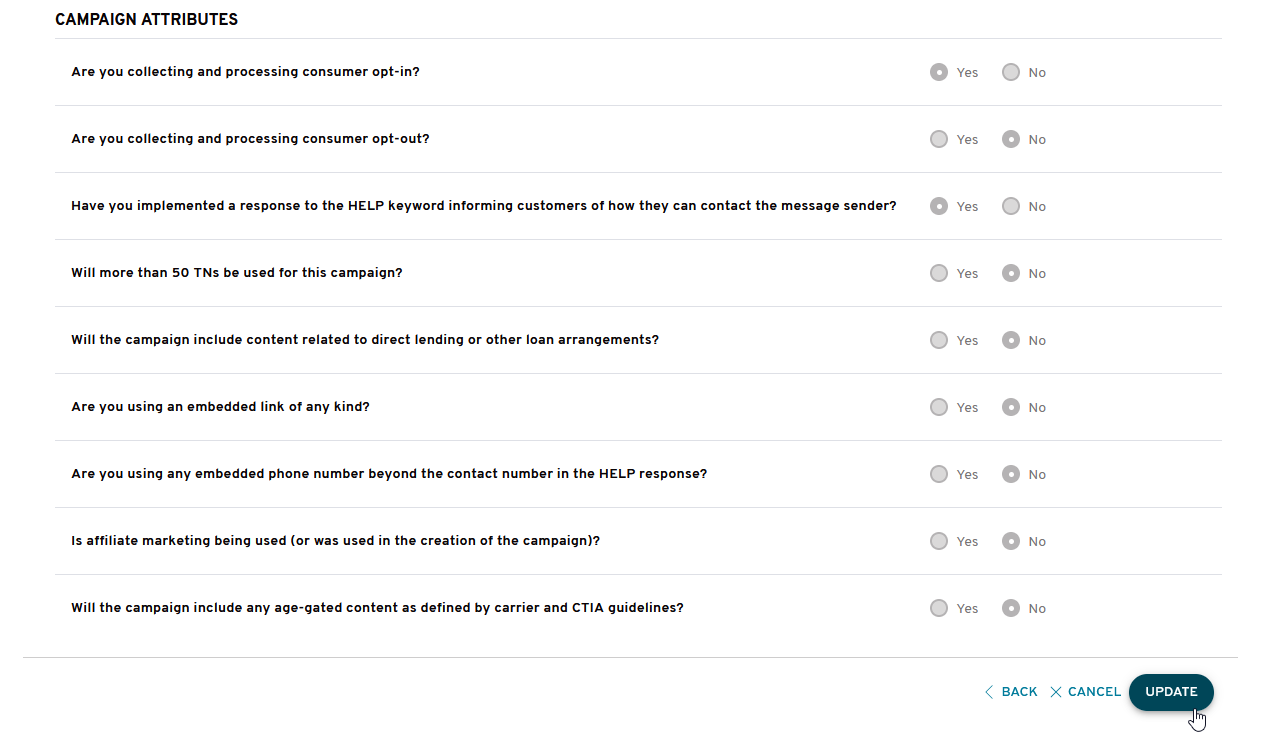 Deactivating a campaign
To deactivate your campaign, click the Deactivate Campaign button located next to Edit Campaign. You'll be prompted with a warning message. To confirm that you want to delete your campaign, click Deactivate Forever.
Important: This action can't be reversed. Deactivating a campaign will change its campaign status to Expired and remove that campaign from all TNs in our system. Campaigns in Expired status can't be edited or reactivated. Please note that if you deactivate a campaign within 3 months of creating it, you'll still be charged for the full 3 months.
Importing a campaign
In the top navigation bar, select Campaigns. If your account is set up to import campaigns, you'll be routed to the Imported Campaigns page where you'll see a list of campaigns that have been previously imported to your account.
Click New Imported Campaign. This will bring up a New Campaign modal.
Enter the ID of the campaign you want to import and click Import.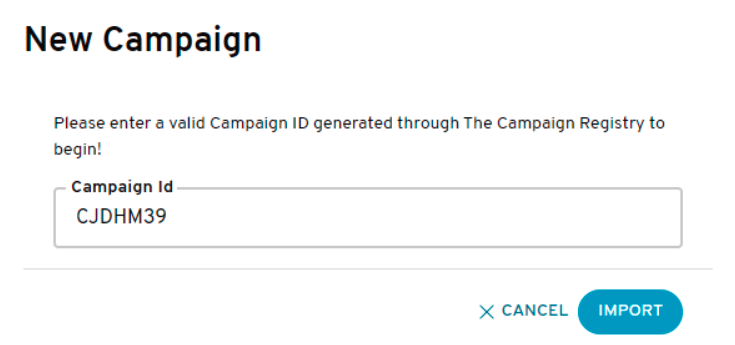 Assigning a campaign to a TN
This step is applicable if you're registering brands through Bandwidth or TCR.
Navigate to the Search Telephone Numbers section on the right side of the home page.
Enter the phone number and click Search.
Click the blue phone number link. This will take you to the Phone Number Details page.
Once you're on the Phone Number Details page, scroll down to SMS Settings.
Ensure that the SMS Enabled toggle is on and the Use location defaults toggle is off.
Use the A2P Campaign ID drop-down menu to select the campaign you want to assign to this TN. Once you do that, the A2PLC Message Class field will auto-populate with the message class assigned from TCR.
Click Save. The TN will be associated with the campaign ID and will be ready for use.
Note: If you don't see the Campaign ID in the drop-down menu, it's likely because: 1. It hasn't been approved by all Mobile Network Operators (MNOs); 2. It's been deactivated and is in Expired status; 3. The background processing for your Campaign has been delayed. This should be resolved within one hour of initial registration. For the full list of statuses and their descriptions, please see our campaign FAQs. For more info on TNs, please see our number ordering guide.
Removing a TN from a campaign
This step is applicable if you're registering brands through Bandwidth or TCR.
Follow steps 1-4 from above to navigate to the Phone Number Details page and down to the SMS Settings section.
Enable the Delete campaign from phone number toggle and click Save.
Bulk assigning a campaign to multiple TNs
In the top navigation bar, select Numbers and click My Numbers.
Select Line Features and

c

lick the download a template .csv file link. This will download the CSV file into your web browser.
Note: If you don't see the file, please make sure your browser is set to allow pop-ups from the Bandwidth Dashboard and try again. If you still can't locate it, check the Downloads section in your browser or the Downloads folder on your computer.
Once you open the template, you'll see sample data that shows how the file needs to be filled out for various features. Please erase all information in rows 3-6 before entering your own.

In the TN column, enter the phone number to which you want to assign the campaign. Please use the 10-digit format without spaces, parentheses, or dashes.
In the A2pSettings CampaignId column, enter the ID of the campaign that you want to assign to the number.
In the A2pSettings Action column, type asSpecified.
Once you're done, save the file in the .csv format and return to the Upload Line Features page.
Drag and drop the file into the Choose a .csv file to import field or click Browse to search for it on your computer.
Enter an optional Customer order ID that can be used to identify any orders created as a result of this file import.
Click Import to upload your file and start processing your TNs.

Upon successful completion, the TNs will have the appropriate campaign ID assigned and will be ready for use.
Note: If you encounter any errors when uploading the file, please double-check that the formatting is correct. Errors may occur due to an incorrect file type (anything other than .csv), spaces in the file name, or formatting issues in the file itself.
Bulk removing multiple TNs from campaigns
Follow the steps in the previous section with one change to step 5. In this step, leave the CampaignId blank - this will delete the campaign from the TNs once uploaded.
See notes above for uploading the .csv file and any potential errors.
Questions? Please open a ticket with your Bandwidth Support Team or hit us up at (855) 864-7776!
Was this article helpful?
0 out of 0 found this helpful