How do I manage my U.S. off-net ports?
Follow
In this article, we'll go over the basics of how Level 3/CenturyLink automation works. For a very long time these types of orders have followed a manual process, but now we've added new features designed to automate them.
What are the new features?
Schedule your Level 3 port orders at any time between 6:00 am ET and 10:00 pm ET using flexible activation time.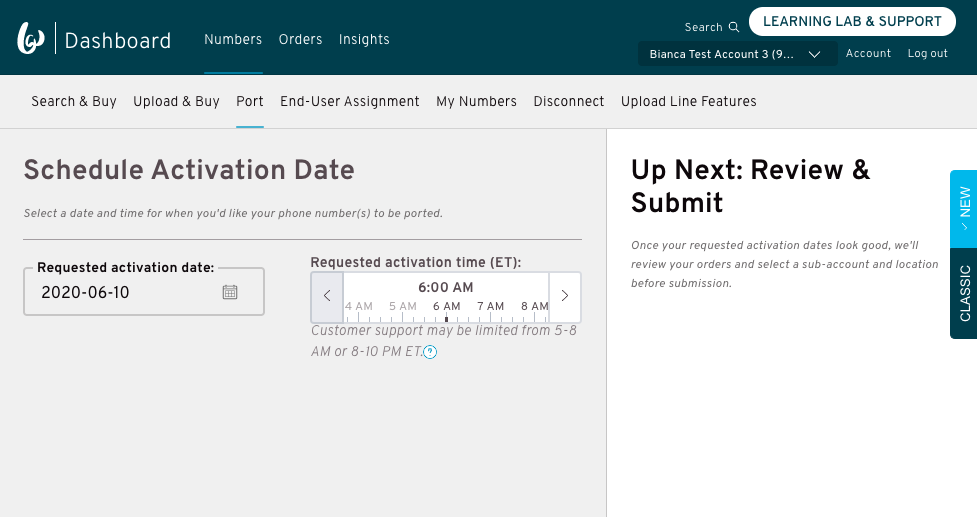 Provision off-net ported numbers in real-time on the day of the Firm Order Commitment (FOC).

Receive real-time status notifications from Level 3. This automation means fewer manual U.S. off-net ports, eliminating wait-time for swivel-chair processes to complete!
With this automation, you may experience port order rejections that instruct you to cancel and resubmit your order. All of this is based on our off-net vendor's system capabilities.
Your U.S. off-net orders will flow just like an automated on-net at this time. The order will enter a submitted status upon submission and be sent through to Level 3/CenturyLink via API and begin processing. The Level 3/CenturyLink Parent Order ID is also the Port Order Number (PON) on the Bandwidth Dashboard order.
What else do I need to know?
The Bandwidth Dashboard's PON is now the 9-digit Level 3/CenturyLink Parent Order ID.

The

Port Type

will now show as

Automated

instead of

Manual Offnet

.

The requested FOC date can now be scheduled at any time between 6:00 am ET and 10:00 pm ET.

If you receive a rejection, it'll flow through to the order automatically.

If our porting partner can pull a Customer Service Record (CSR), the details will flow through as an order note.

Note:

If you need to pull a new CSR, the order details will need to be changed. The order will then go through the CSR phase again.

If you need to make changes to your order, simply edit the information you wish to change and adjust your requested due date as needed.

Due to certain limitations with the U.S. off-net porting, some rejections will require you to cancel the order and resubmit. Currently, the only fields that can be SUPPed in the order are:

Requested FOC Date

Billing Telephone Number (BTN)

Customer/Subscriber Name

Order Type (business or residential)

Since our porting partner's API doesn't support more than 49 phone numbers per order, we'll automatically convert and handle any order that exceeds that number as a project port. This won't require any additional action from you.

Note:

Due to this process, the porting times may be slightly longer.
Post-FOC changes
For cancellations or reschedules made within 2 business days of the FOC date, these changes are handled manually by our team, and may not reflect on the dashboard until the supp is accepted by the LSP. However, any scheduled activation will not be processed while the supp is in flight. To verify supp status and to track your request, please open a support ticket to make these short-notice changes.
Additional information
If your order has an FOC, only the requested FOC date may be changed. However, if your order hasn't yet received an FOC from Level 3, you may change:
Order Type (business or residential)

Customer/Subscriber Name

BTN

Requested FOC date
All other changes require orders to be cancelled and resubmitted. Here are the most common error codes that'll prompt you to cancel your order and resubmit it with the corrected information:
Note: We're actively working with our porting partner to give you the ability to make SUPPs on these error codes and avoid having to cancel and resubmit your order.
Questions? Please open a ticket with your Bandwidth Support Team or hit us up at (855) 864-7776!
Was this article helpful?
4 out of 4 found this helpful